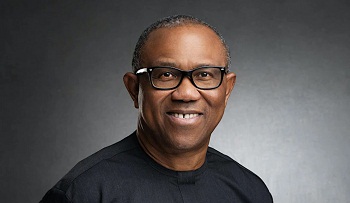 By James Okoroma
Former Governor of Anambra State and Presidential candidate of the Labour Party (LP), Mr. Peter Obi, has obviously become the major issue in the impending Presidential election in Nigeria. This can be attributed to a lot of factors : He is the only candidate that has demonstrated the clearest and deepest understanding of Nigeria's Socio-Economic and political challenges.
Also , Obi's superlative performance as Anambra State Governor, sets him apart as the best tool Nigeria needs now to turn around things and regain the grounds lost in the last seven and half years. Furthermore, Obi's Labour Party has become a platform for the emergence of a new crop of Nigerian Leaders.
For Nigeria, there is no doubt that the foundations of  national unity have collapsed. The divisive and segregative approach to governance which we have witnessed in the last seven years, has fueled separatist agitations and made centrifugal forces and non-State Actors demand a re-negotiation of the terms for Nigerian unity.
Nigeria is a fragile Federation where most of the Federating Units or ethnic nationalities are no longer willing to continue living together without  proper restructuring of the Country and re-defination of the terms for unity.
What Nigeria needs now, is a Presidential ticket that can calm frayed nerves and reassure all Nigerians that they will be better off living together in a united Nigeria.
The Obi/Datti combination appears to be a panacea for Nigeria's current ailments. It is a ticket that can help all Nigerians forge ahead and forget the devastations of the last   seven years.
The Nigerian Civil War ended militarily in 1970. We must make efforts to also end the war democratically. The wounds which the war inflicted on the South-east will heal finally with the emergence of a Nigerian President of Igbo extraction.
Eight years of Obi's Presidency will give Ndigbo a sense of belonging and inclusion and also help to re-assure Igbo youth that there is a future for them in a united Nigeria.
For now, a lot of Igbo youth see Nigeria as a Country in which they cannot attain the heights they desire and deserve. For them, Nigeria's unity is a burden they do not want to bear.
Nigeria must make a deliberate effort to reassure the Igbos that the war has ended and is not being fought by other means. One of the ways to do this, is to allow Obi serve Nigeria for eight years.
Eight years of Obi as President, would not amount to eternity. This is a  sacrifice Nigeria needs to make to cement national unity.
No nation survives on the basis of injustice.
There can never be peace in the absence of justice. The claim of marginalisation by Ndigbo must be addressed.
The Obi/Datti ticket will address this and bring all Nigerians together irrespective of differences in religion and ethnicity. This is certainly what we need to forge ahead as a united and indivisible Nation.
Dr. Okoroma wrote from Akabor, Ahiazu Mbaise in Imo State.
NIGERIA NEWSPOINT