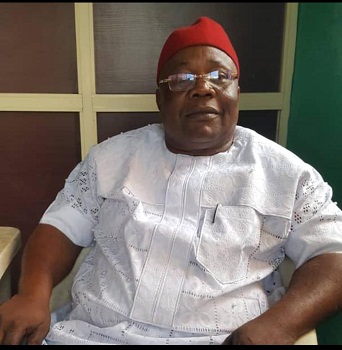 …Ekeh: IPAC not platform to  attack, praise govt
The Inter-Party Advisory Council of Nigeria, IPAC, Imo State chapter, led by Ichie Levi Ekeh has flayed the alleged activities of a group it said,  goes under the aegis of "G12",  parading  as the leadership of Imo IPAC.
At a Press briefing in Owerri, Wednesday, attended by state chairmen or representatives of Political Parties including the state chairman of ABM and secretary of Imo IPAC, Clinton Edoziem, the State Chairman of the All Progressives Grand Alliance, APGA, Imo State, Chief John Iwuala, among others, the  chairman of IPAC Imo State, who also is the state chairman of Zenith Labour Party (ZLP), Ichie Ekeh hinted that the present executive led by him, was duely elected two years ago, adding that their tenure was still running.
Ichie Ekeh further hinted that the constitution of IPAC is clear on how the leadership of the group should emerge alleging that the purported G-12 allegedly wanted a situation where IPAC would be used as a platform to fight the government.
The Imo IPAC chairman dismissed alleged insinuations that a bank account opened in the name of IPAC Imo State, was being used to defraud Imolites.
Ichie Ekeh challenged the group to name any Imolite so far defrauded through the said bank account. He further explained that the essence of the bank account was to ensure prudence and probity in the management of IPAC's funds.
Imo IPAC alleged that some of the aggrieved members abandoned committees assigned to them after funds were released to mobilise such committees.
The Imo IPAC boss further clarified that the council works on advisory capacity with the Independent National Electoral Commission, INEC, to ensure peaceful, hitch-free polls, as well as ensure harmonious relationship among the various political parties.
Imo IPAC disclosed that the body had advised the Imo State Independent Electoral Commission, ISIEC, against going ahead with the proposed Local Governments elections on grounds of insecurity in the state.
While commending Governor Hope Uzodinma in the areas of security and road infrastructure in Imo, IPAC however, urged him to extend the feat to rural areas including ensuring more security presence in the rural communities.
Imo IPAC equally hinted of its plan to hold a security summit with a view to finding solutions to the issue of insecurity in the state.
Meanwhile the body has made it clear that the objective of the council was neither to praise or attack government. It said they could appraise the government and give informed and unbiased opinion on issues.
NIGERIA NEWSPOINT