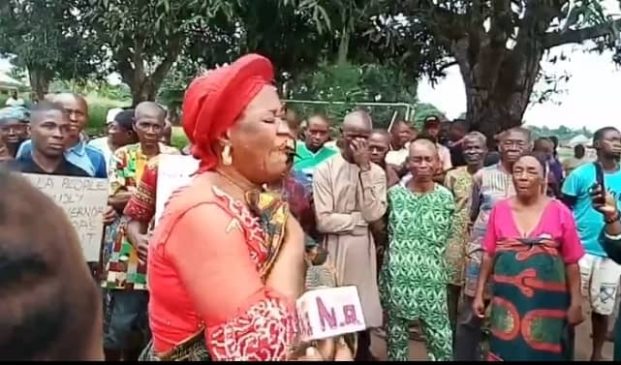 Following the recent press release of 30th August, 2023, by the Hon. Commissioner for Lands, Ministry of Lands, Imo State, Owerri, Hon. Noble Atulaegwu, on forceful takeover of Owalla Uratta lands in defence of the activities of some faceless land grabbers who purport themselves as 'developers' or agents of government, we have these to state to refute and counter whatever chronic falsehoods as found in the release to the unsuspecting Imo public and follows:
That the said Land known as River side layout cutting across part of Amatta, Orji, Owalla and Mbieri was acquired by the previous government and adequate compensation paid to the communities identified by then, according to the Commissioner, is a falsehood because the River side cutting across the said four communities as the purported acquisition in the release did not have Owalla in the picture of acquisition and Owalla was not part of any government delegation or memo for acquisition because there is extant law for land acquisition since the emergence of Land use Act of 1978 authorizing governors as statutory land holders across their states as to the procedure and due process for Land acquisition from primar or nominal holders was not applied in our case which should have been done through our traditional ruler Eze Okechukwu B. Nwaneri and some Owalla stakeholders to summon their people and inform them of government intention to takeover our lands for development and we become aware of this intention in the first instance but such a thing did not happen in our community let alone paying compensation by whichever previous government, from the creation of Imo state on February 3, 1976 with Ndubuisi Kanu as military governor to the regime of Hon. Emeka Ihedioha as governor of Imo State, which terminated on 14th of January 2020, no government had ever informed us of acquiring our lands for development whatsoever.
His paragraph 2 contradicts his claims in paragraph 3 which stated that our Land had been acquired and adequate compensation paid why then did he invite us to a meeting in his office with Our Eze and leaders of Owalla to come for negotiation after much hues and cries from our people based on the sudden takeover and destruction of our effects with over 15 caterpillars in which he now mellowed down the wailings of our people using idea of adequate monetary compensation and compensatory plots as a tool to lure us into agreeing their deal to takeover our lands which should have been treated with a wave of the hands if we had been hitherto part if their deal in admitting his twist as true.
His paragraph 3 is also untrue that our Eze appreciated him for his quick intervention and promised to communicate the outcome of our meeting with him to his subjects. What transpired here in his office is that he agreed to stop work and make far-reaching negotiation with Owalla community in which the Eze said 'let him match his words with action,' which he failed to do rather he engineered and re-engineered his workers to continue job up to the level of uprooting cassava tubers planted three months ago and advancing up to our backyard level as at the time of this press release of 12th September, 2023. You can imagine.
We went to court on the basis of this astonishing embarrassment and its consequent brutality associated with maiming some people through general beating, karating, flogging and releasing of tear gasses and life firearms on us as defenseless civilians who wanted to accost them to know why such a scenario in Owalla community amidst heavy security personnel of army and policemen, armed to the teeth which barricaded the gateways into the lands; which resulted in some people being hospitalized especially women as evidenced in our video records, and some having B.P hence we sought to seek redress in court because they refused us audience.
Conclusion
The procedure for compulsory acquisition requires sufficient and admissible approach to the owners of lands and adequate compensation paid to them on acquisition. We were not given any notice, no compensation was paid to us neither do we know the purpose of such purported acquisition whether for private or public use as to know our position which are yet to be defined to us by these operatives.
Therefore, we wish to make ourselves clear and categorically state that anybody, group or corporate entity buying land from this part of Owalla in question does it at his or her own risk; such areas as include the following:
Lolo Nwanyi  (2) Uhu Agbala   (3) Uzo Oba  (4) Uhu Umuakali
(5) Amaegbe  (6) Omirienyi areas.
Signed
NIGERIA NEWSPOINT