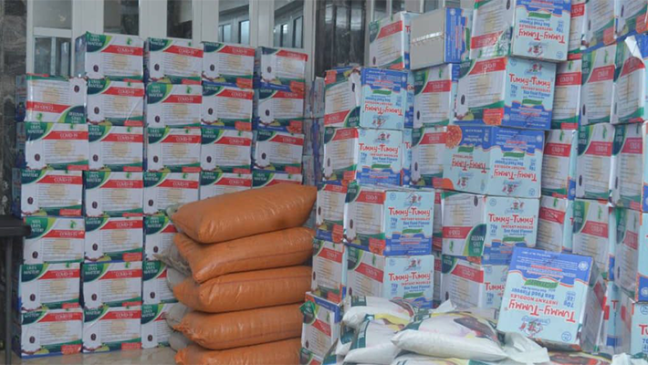 The removal of the subsidy on fuel right from the first day of the Bola Tinubu-led All Progressives Congress, APC, administration, has led to astronomical rise in fuel price with the concomitant hike in transport fares and prices of other goods and services.
The hue and cry that followed the escalating economic hardship resulting from the fuel subsidy removal, prompted the Tinubu administration to initiate  palliatives aimed at cushioning the effects of the subsidy removal.
The palliatives which reportedly include thousands of bags of rice and cash to each of the 36 states of the federation, where handed over to state governments for distribution to the citizens.
It is however, sad that the palliatives, apart from being grossly inadequate as to reach vast majority of the citizens, were either reportedlly diverted and sold in the market or  reportedly used to further political purposes of some state governments.
Some state governments were allegedly giving out the palliatives to their party loyalists.
The question is why a citizen would be asked to show his voter's card before being elligible for the palliatives according to unconfirmed reports.
There were even reports that some people were arrested selling rice meant for the distribution in the market.
Fact remains that the palliatives appear not have been properly planned as it seemed not have been based on any demographic statistics ab initio The World saw how the United States and some other western nations delivered Covid-19 palliatives on the doorstep of her citizens including cash disbursement.
Tinubu's subsidy palliatives appear to have gone the way of Buhari Covid19 palliatives in many states.
We are persuaded that given the experience of Covid-19 and the  recent subsidy palliatives,, the federal government should subsequently fashion out modalities to distribute such relief items or palliatives independent of state governments.
The federal government could use its relevant ministries, departments and agencies in distributing such palliatives or relief materials.
State governments on their own part, should endeavour to initiate their own palliatives rather than wait for whatever the federal government throws to them from Abuja. After all, all the both levels of government get their own shares of funds from the Federation Account.
NIGERIA NEWSPOINT