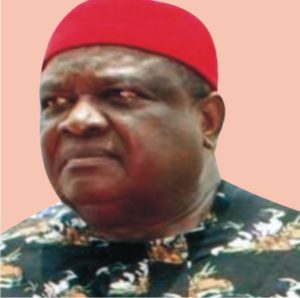 The attention of Ohanaeze Youth Council (OYC), under the dogged and astute leadership of Comrade Igboayaka O. Igboayaka, has been drawn to a malicious cum spiteful, yellow Press statement credited to  Ohanaeze Ndigbo World Wide, under the anti-Igbo leadership of the duo, Chief Emmanuel Iwuanyanwu and Dr Alex Ogbonna disassociating herself from the selfless position of Ohanaeze Youth Council on the incessant, political killings in Imo state under the alleged ruthless reign in Imo State.
The said Ohanaeze Ndigbo World Wide, who dissociated herself through her anti-Igbo feudal demagogues of annoying politicians from Ohanaeze Youth Council over the innocent expository press conference issued on the rash, rampage killings going on at Oguta, and Imo State at large, has proven that she is a maverick, money-making grouping led by notorious conspirators with fecal stains on their ears bankrolled by the alleged arch conspiratorial elements in government  as masterminds of the killings going on in Imo State since forty one (41) months.
The so called Ohanaeze Ndigbo World Wide wrung her hands and had her mouth muted when about eight (8) Otulu youths were allegedly  butchered in their prime by the demonic, blood sucking cult known as Ebubeagu .
Ohanaeze Ndigbo World Wide national executive were always basking in the comfort of their homes sleeping under air-conditioned apartments when over 170 Houses were burnt down in Oguta with over fifty people killed.
Moreso, yet, even in the sacrilegious face of the carnages, the dastard destruction of lives, property and the field of bloodbath that took place in Orlu, Orsu, Oru East, Oru West, Ohaji/Egbema, Oguta, Ideato North, and Njaba, the so called Ohanaeze Ndigbo World Wide, the parent body, took to an ominous unperturbed slumber, unconscionably snoring adamantly with no human conscience to caution  the state Government  and  alleged murderous political mercenaries.
It smacks of  the  height of conspiratorial indolence, sychophancy, disappointment and insolent hypocrisy, unfortunately,  the so called Ohanaeze Ndigbo World Wide, a group of Igbo elders that have reportedly  lost the noble glory and exemplification of Igbo character, as led by some irrelevant political jobbers, demonic fifth columnists, socio-politically dead elements and brutal enemies of our dear State, Eastern heartland, would politically and/or shamelessly ochestrate such an unencouraging bad press,Ohaneze Ndigbo    by way of a "bought counter press conference" dissociating themselves from the laudable press conference of Ohanaeze Youth Council after Ohanaeze Youth Council, in her mandate, without fear or favour, had altruistically exposed the sacrilegious killings, systematic conspiracy, harsh as well as the excess governmentalisation of both public and private lives of  Imolites, poor cum rash leadership of the government. It is crystal  clear that the Governor is  socio-politically  unfit to be returned, via re-election, as Governor of Imo State come,November, 2023.
It is our understanding that it's not unusual of Chief Emmanuel Iwuanyanwu led Ohanaeze Ndigbo World Wide to have embarked on such denigrating, futile spree of poor media outing after being mobilized heavily with the state fund by the state government;the piper payer! It didn't shock us with any iota of surprise.
We therefore wish to inform Ndigbo and the general public that Ohanaeze Ndigbo World Wide as led by Chief Emmanuel Iwuanyanwu and Dr. Alex Ogbonna has gone in connivance with people in government to further the alleged continuous killings of Igbo youths and others going on in Imo State, especially the most unfortunate recent killings and wanton destructions of lives and property at Oguta after recieving some heavy financial reward from Gov. Hope Uzodinma evidentially signposted by the yellow, counter press conference issued by Ohanaeze Ndigbo World Wide against the constituted leadership of Ohanaeze Youth Council allegedly sponsored by the Government  through his puppet , Mr. Declan Emelumba, Commissioner of Information, Imo State.
It's quite painful and disheartening that Ohanaeze Ndigbo World Wide, as led by the alleged duo Chief Emmanuel Iwuanyanwu and Dr Alex Ogbonna kept mute and volunteered a deaf ear , with cold indifference, on the devastating report of Inter-society group as led by Comrade Emeka Umeagbalasi which noted in confirmation that "No fewer than 1,600 unarmed and helpless citizens of Imo State have been killed while 300 others have disappeared without traces between January, 2021and May, 2023 ,29 months.
The Intersociety group report further stated, on good authority, that about 700 persons sustained huge decrees of life-threatening  injuries with over 900 others abducted within the same period under review and as well noted that 600 out of the 900 were secretly killed by State actors while 300 died in open shootings.
It was further disclosed, vide the said report, that 400 out of the 700 killed by armed non-State actors died in captivity while 300 others were killed in open shootings as the report added that within the same period, 3,500 young people were arrested by the State actors with about 1,400 of them paying through their noses to secure their freedom while over 1,500 of the arrested persons were still being detained in various detention facilities within and outside the State.
The so called leadership of Ohanaeze Ndigbo World Wide was very much aware of the Intersociety group report that finally disclosed that about 1,200 houses were burnt with their 30,000 owners displaced while 500,000 citizens of the State in active age-brackets were forced to flee to escape being shot, killed, exterminated, abducted or disappeared." What did Chief Emmanuel Iwuanyanwu et el say or do? Nothing!
Assuming but not conceding that Chief Emmanuel Iwuanyanwu and Dr. Alex Ogbonna were oblivious of the ugly occurrences and/or events that birthed the Intersociety group's report, now that they are put on the know, we challenge them and their Ohanaeze Ndigbo World Wide, if they are truly serving the interests of Ndigbo, to independently investigate the unnecessary killings and destruction of lives and property herein complained of under the watch of vindictive and/or oppressive government of Gov. Hope Uzodinma and come up with a comprehensive report devoid of being doctored.
It's on this note we want to categorically inform the general public that Ohanaeze Youth Council (OYC), which is not the same thing as Ohanaeze Ndigbo World Wide, is not answerable to Gov. Hope Uzodinma as, in the same vein, Ohanaeze Youth Council, under Comrade Igboayaka .O. Igboayaka is a committed leadership.
We are not even answerable to the  most unpatriotic  Ohanaeze Ndigbo World Wide under the leadership of Chief Emmanuel Iwuanyanwu and Dr Alex Ogbonna, the Publicity  secretary who has turned himself to some sort of shameless puppet in the hands of politicians.
Ohanaeze Youth Council is totally answerable both to over 50 million Igbo youths world over, to the thousands of Igbos allegedly killed under the dictatorship of state government and to the plights, torturing tribulations and sufferings of Ndigbo especially Imo/Oguta people.
Including the those  attacked by the military, illegal Ebube-Agu and non State actors who killed and are still killing Igbo people, burning their houses.
The Ohanaeze Youth Council's position and views on the issues concerning Ndigbo will continue to represent the vast interests of Ndigbo without any fear or favour of any Governor in Igboland. It's on record that No Igbo Elder or political stakeholder(s) has cautioned Governments over the careless brutal killings and burning of people's houses on-going in Imo State.
Unfortunately, the Southeastern Governors have failed Ndigbo and it's regrettably that Ohanaeze Ndigbo World Wide, instead of standing with Ndi Igbo, Imo/Oguta people at their excruciating moment, has chosen to stand with  a politician  merely because of peanuts and crumbs that fall from the governments house tables.
It's obvious that most Igbo elders have become the Esau of our era that have eaten deep into the destinies of Igbo youths and people. It's appallingly regrettable that an Igbo elder like Chief Emmanuel Iwuanyanwu, we call our father at his peak age, could be defending alleged  carnivorous agents in government that have turned Imo State as a slaughter house where the lives of Imo people, especially the youths, at their prime ages, were reportedly cut off by Ebube-Agu as well as other security operatives.
We are aware that even the Boko Haram and Bandits in the North are treated with human face by their Governors and Federal Government and that's why we have repentant  Boko Haram and Bandits but in Igboland, our elders have turned off their eyes as Ebube-Agu and other security operatives are allegedly swimming with blood of both innocent Igbo youths and others perceived as their enemies and/or unilaterally considered criminals through the barrels of their guns.
Heaven, Earth and the spirit of Igboland will bear us witness that it's no longer Britain against the Igbos, Fulanis  against the Igbos or Yorubas against the Igbos but lo and behold it's painful and regrettably that it's alleged  corrupt Igbo Elders and Governors against the Igbos in the South East.
We, therefore give Ohanaeze Ndigbo World Wide as led by Chief Emmanuel Iwuanyanwu and Dr. Alex Ogbonna to retract their statement against Ohanaeze Youth Council(OYC), steer clear to the activities of Ohanaeze Youth Council and amend their terrible mistakes and silence over the killings of Igbo youths in Imo and South Eastern States by oppressive governments within 72 hours or face unstoppable resistance from Ohanaeze Youth Council (OYC) and Ndigbo at Large.
Finally, we want to re-emphazise that with the litany of killings and burning of Houses in Imo State,the  Governor, Hope Uzodinma is not qualified to seek for a re-election, and should see his re-election bid as a white elephant project. We assure Ndigbo, with the last drop of our blood, that Ohanaeze Youth Council(OYC) under the selfless leadership of Comrade Igboayaka O Igboayaka will not relent in standing  with Ndigbo/Ndi Imo, particularly Orlu and Oguta people at this perilous, maiming era of despotic reign of  tyrants in South East.
Signed
Comrade Igboayaka O Igboayaka
National President General 
Ohanaeze Youth Council(OYC)
Comrade Ifeanyi Nweke
Secretary General
Ohanaeze Youth Council OYC
5th September, 2023
NIGERIA NEWSPOINT