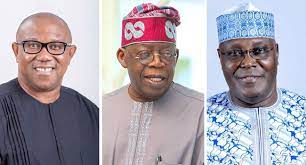 …Atiku,Obi,APM know fate as well over Petitions
Anxiety has engulfed the supporters of the three leading Presidential candidates in the last general elections in Nigeria as the Presidential Elections Petitions Tribunal, PEPT, is set to deliver judgement in the petitions filed by the Labour Party candidate, Peter Obi, the Peoples Democratic Party candidate, PDP, Atiku Abubakar, the Allied Peoples Movement, and others, against the declaration of Bola Tinubu of the All Progressives Congress, APC,  as winner of the February 25 Presidential election.
It was gathered that   there would be live broadcast of the judgment on television and other media channels.
It was further gathered that access to court room would strictly be on the basis of accreditation.
Those interested in the judgement were reportedly advised to watch the proceedings on their television sets.
Recall that legal frameworks have been going on at PEPT for months now, following the decision of the candidates of Labour Party , PDP and other political parties to challenge Tinubu's victory in court.