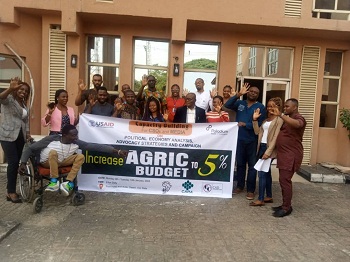 By Chigozie Uzosike
To ensure food security in Nigeria, especially in Imo State, CARA Development Foundation, Community and Youth Development Initiative, CYDI have called for an increase in budgetary allocation of agriculture to at least 5%.
Speaking during the two-day training for Civil Society Organizations, CSOs and Media partners on Political Economy Analysis, PEA, Advocacy Strategies and Campaigns held in Owerri, the Executive Director of CARA Development Foundation, Nnennaya Enyinna-Eneremadu noted that the present allocation of 1.1% for Agriculture is not enough to address the issues surrounding agriculture; if Nigeria, especially Imo State must make any progress in the agricultural sector for food security. She hinted that the government of Imo State and various stakeholders should make a conscious effort, to advocate for the increase in budgetary allocation of agriculture to at least 5% to address the issues of technology, manpower, and equipment among other things needed to improve Agriculture and make it a veritable source of development. She added that daily lives revolve around agriculture including clothes, houses, food, medicare and healthy living. She encouraged all hands to be on deck to achieve it.
In his comments, Felxfame Enisire of Community and Youth Development Initiatives, (CYDI), said that Imo State can become a one-stop-shop for agriculture if the needed budgetary allocation is increased. He noted that it will be a win-win situation for both the government and citizens as the multiplier effect of the increase will rob off positively on every citizen of the State. He urged the executive and legislative arms of government to see the need for an increase in budgetary allocation of agriculture to 5%; while encouraging all non-state actors, individuals, and private sector organizations to raise the campaign around the issue for better healthy living.
The Chairman of All Farmers Association of Nigeria, (AFAN), Imo State chapter Dr. Ayo Enwerem, and the Program Director of Foundation for Livelihood Advancement,  Kenneth Amogu respectively noted that Imo State government and citizens stand in a position to create massive wealth for the State, especially considering that the state has a large expanse of land to farm on. They stated that it can only take place with the increase of Agric Budget to 5%, urging all stakeholders to key into the Advocacy and campaign for food sufficiency in Imo State.
This campaign under the USAID SCALE project with support from Palladium seeks to ensure food security in Imo State.
NIGERIA NEWSPOINT