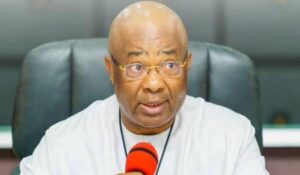 By Williams Odunze
Following the deplorable condition  of roads in the Oil Producing Communities in the State,a group known as Egbema Leadership Forum is demanding from Imo State Government 50% from the#70bn  Oil Revenue paid to the State Government by Federal Government being money which accrued from Oil Companies'  royalties that was remitted to Federal Government.
Addressing  Journalists  at the Nigeria Union of Journalists,NUJ at the Press Centre, Portharcourt Road,Owerri; the National President of the Forum,Barr.Israel Onyeoyibo  stated that the Forum is demanding 50% of the#70 billion Naira oil tax money paid recently by the Oil Companies operating in Imo State to be allocated to Ohaji, Egbema and Oguta.
He noted that the reason why they are demanding t 50% payment  is because of  the poor state of the roads in the area,namely: Avu —Adapalm —Etekwuru road.
Ejemekwuru–Agwa–Egbema road.
Oguta Motel Egbema road and Umuapu–Egbema road.
The leader  blamed the political Representatives from the area and successive administrations in the State for the woes meted on the people of the area.
"Egbema is a clan which finds itself in two States in Nigeria,Imo State and River State.During the colonial era, Egbema was in the old Ahoada Province.A part of the Province was later moved to Oguta Division while the other part remained in Ahoada Division.The situation which Egbema finds itself in Imo State from 1976 when the State was carved out from East Central State till date has been tales of woes", he lamented.
The National President, further disclosed that the State Governments, overtime  have not shown any sincerity in tackling the issues that concerns the people of the area.
According to him, the N70bn  that was presently given to the State Government was as a result of the operation of the Oil Companies in Ohaji/Egbema and Oguta Local Government Areas of Imo State.
"In the circumstances, therefore,Equity and fairness demand that Ohaji/Egbema and Oguta with their  peculiar natures and deplorable condition of their roads should be considered in putting part of that #70 billion Naira to be used by the  Government of Imo State"
NIGERIA NEWSPOINT