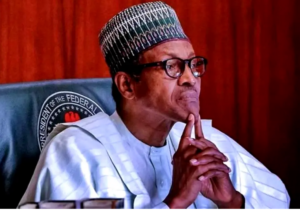 Visualizing in one's mind eyes, images of President Muhammadu Buhari promising that he will fight corruption to a standstill, if he was elected president, and juxtaposing it with what is happening today, truly brings tears to the eyes.
Prior to his emergence in 2015, and particularly during the presidential election, he had relentlessly voiced his strong hatred for corruption,  vowing to stamp it out as president. To convince Nigerians more, he included it as one of the three major tasks he tackle seriously in office. The other two were the economy and insecurity.
Seven years down the line not a few Nigerians strongly hold the view that the president has performed abysmally here. If the reality staring Nigerians on the face is anything to go by, it will not be far from the truth to aver that the president is actually pampering and romancing corruption and not fighting it.
It is no more secret that looting and pillaging of the country's resources has seemingly attained frightening dimension in the last seven years. What is happening today many have argued has made what happened under ex-president Jonathan a child's play. Only recently, the Economic and Financial Crimes Commission, EFCC, said it arrested the country's Auditor General, over alleged whooping N80b fraud. Few months ago, it was the news of forfeiture of assets worth over N10b allegedly linked to a deceased army general Animu Kano Maude to the government. The ear tingling cases of looting and stealing are simply too many to be captured here.
However, what is really giving concerned and worried Nigerians sleepless nights is not gargantuan level of corruption, but the seeming official endorsement being giving treasury looting by the powers that be. Is there any other way to describe what is going on presently, where rather than being tried and punished heavily for willful sabotage of their nation, people accused of corruption and even those convicted, are being left off the look with a mere slap on the wrist. Take the duo of former governors Jolly Nyame and Joshua Dariye of Taraba and Plateau States for instance. Both men were jailed for corruption but, in what many termed  curious exercise of his constitutionally assigned prerogative of mercy, the president recently left them off the hook. Ibrahim Magu former EFCC chairman was investigated and found guilty by a presidential investigative panel but, as we were looking forward to seeing him charged to court, the president rewarded him with promotion to the rank of Police Assistant Inspector General of Police, AIG.
The effect of all these questionable actions is that looters and pillagers in public offices are becoming more emboldened and daring. And who in their shoes would not like to grab the opportunity with both hands, knowing that they would eventually get away with their crime even when caught.
The nation's economy and the helpless and hopeless citizens continue to be at the receiving end of the provocative national misnomer. The nation's economic trajectory and indices are in the red as inflation continues to climb higher on two digits. Power outage has worsened, unemployment rate continues to spike, just as poverty has climbed through the roof.  Insecurity and terrorism have almost suffocated life out the country. Only yesterday reports filtered about the bombing of a primary school, Winners Primary School, in the Sabon Gari Area of Kano State by terrorists!
Without mincing words, matters have really come to a heed in the country. You would be right if you say that the country is seemingly adrift like ship without captain. Something needs to be done urgently to bring the country from the edge of the precipice where it is currently headed.
Since it has been established long ago that, corruption is the root cause of the myriad of problems buffeting the country, President Buhari should start tackling the scourge heed long. It is his duty to do that and we call on him to jettison this present style which has done more harm than good, and embrace a more result oriented strategy.