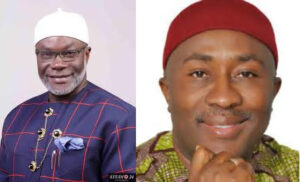 …He lacks Authority to Issue Warning.
 By Frank Nwaete
Next Tuesday, MAY 24, the PDP SENATORIAL PRIMARIES would have been held.
Incumbent Dist. Sen. Francis Ezenwa Onyewuchi (Ebubedike) who is seeking re-election to consolidate on his great achievements, having done tremendously well, has been toast of Owerri  Zone  People, is on top of the game!
The massive followership and genuine support, Sen. Onyewuchi has continued to enjoy, is ceaselessly rattling other Aspirants Chiefly among who is Barr.Uche  Onyeagucha.
Barr.Uche Onyeagucha and his team have  unfortunately resorted to throwing  sands at themselves(not Sen.Onyewuchi), which sands throwing doesn't even go far. Hahahahahahahahahahaha
Their latest incredible  show of shame  was a "press release", in which they said that Barr. Uche  Onyeagucha purportedly "warned" senator Francis Ezena Onyewuchi (Ebubedike) over  what they claimed was his role in the suspension order clamped on the Orji Ward PDP Chairman and  Secretary.
As laughable as the purported "warning" is, a mere rhetorics of the already down and out of the contest, Barr.Uche Onyeagucha.
Barr.Onyeagucha  has continued to inflict himself with avoidable injuries and surely deserves no Pity for his inability to soar in the race.
Dist.Senator Fracis Ezenwa Onyewuchi  (Ebubedike) is surely not the cause of his Political woes.
The question now is, What authority  does Barr.Uche  Onyeagucha has to "warn" a sitting Senator.
From where did he derive   such authority?
Or is it his own subtle way of showcasing his frustrations that Dist. Sen. Francis  Ezenwa Onyewuchi's rating skyrockets as the days go bye?
How come Hon.Uche Onyeaguch  thinks that he can do any magic with the suspended party officials?
Barr. Onyeagucha  Should have informed us of the allegations against the Orji ward  Chairman and  secretary, that led to the disciplinary actions on them.
That would have helped him in  passing judgement at the court of public opinion, which he wants to achieve.
Lest we forget, Hon. Uche  Onyeagucha was in the House of Representatives  from 2003 to  2007 and till date,cannot tell of any record of achievements by him.
This is inspite of several challenges on him to do so, but he cannot.
While Dist. Sen.Francis  Ezenwa Onyewuchi proudly reels out the bevy of  things he has done as a Senator  in seeking for re-election, Uche Onyeagucha  has none to showcase, other  than parading as a  protest leader.
And I do not know, since when the Senate has been turned into a chambers of protests leadership.
What Owerri Zone needs is not rebel, protests leaders or activists  to represent them at the Red chamber  of the National Assembly.
But a calm and sound man, who will lobby his Colleagues and chambers leadership to continue attracting developmental milestones to the zone.
We know how "protest leaders" ended in the past in the negativity, with no single record of achievements, such will never be allowed to be our portion in 2023.
It's a shame that Barr. Uche Onyeagucha   talks of only leading protests as campaign strategies.
Which is the reason why the zone is  not lining behind him on his  dead on  arrival  Senate aspiration.
Ironically, Sen. Francis Onyewuchi  did not sign the Officials "suspension letters".
The signatories to the said Suspension order on the ward officers are known and have not denied doing so.
Instead of Barr.Uche Onyeagucha and his team to pounce on the signatories, they choose to play to the gallery and divert attention, by mentioning  the serving Senator.
Their reason of not hitting the authentic suspension letter signatories is not far fetched.
It is part of their ploy to distract Sen Onyewuchi  from the good works he is doing .
Without sounding immodest, Barr. Onyeagucha  has since taken himself into political slavery and is now looking for a soft landing mode activation for himself, and as such shouting as if it is the two officials that are the jocker to his Aspirant ion.
Barr. Uche Onyeagucha  should by now, learnt how to respect those in leadership position.
Because Onyeagucha is not a good follower and as such cannot make a good leader. Not to talk of mistakenly entrusting him with the  Senatorial ticket.
Ka Chineke Mezie  Okwu!