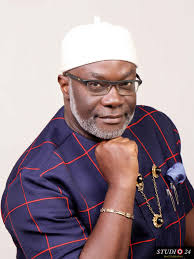 …Seeks to upgrade school to university 
The Distinguished Senator representing Imo East Senatorial District and the leader of the Peoples Movement in his submission at the floor of the Senate explained to his colleagues that Alvan Ikoku Federal College of Education has a long history of producing high quality teachers. However, their curriculum and certification has limited their capacity to do more.
He said that Alvan Ikoku Federal College of Education by all standards is prepared to take on the status of a University of Education and that the impact of this upgrade is promising looking at the antecedents of the school.
The vibrant lawmaker who is also nicknamed by his constituents as MR EMPOWERMENT concluded that the bill will improve the quality of educational training received by teachers in Nigeria and also improve the quality of education. He said it is also important to note that upgrading the College of Education to a University will provide employment and accelerate socio-economic development to the host state.
#IStandWithOnyewuchi
#WiseAndStrategicVoice