By Amby Uneze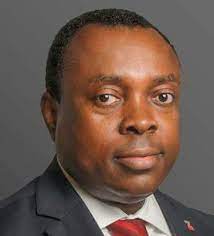 Fame comes with extra hard work which is not usually common to acquire. In life one has to surmount many trials and obstacles to reach to the pinnacle of success. That is exactly what Mr. Stanley Chiedoziem Amuchie has garnered for himself. Nature has a way of paying back to one who humbles self to serve fellow being with modesty, honesty and unassuming meekness.
Amuchie, who tries as much as possible to drop the appellation of 'chief' to prefer simply 'sir' as a knight of the Church, enjoys helping people to solve their immediate challenges. Be it in the work place, in his immediate surroundings and even in his community and Imo state where he comes from. Infact, Stanley Amuchie is known for his benevolence and philanthropy.
He is popularly known by his chieftaincy title of "Ezinwa Mbaise" meaning "the most cherished child of Mbaise people" which transcends his other titles is an accolade that cannot be bought with money. That is why at the mention of his name at any place, it radiates hope, fulfillment, happiness and transparency, which are marks of excellence and integrity. What a rare breed politician, banker, team player, technocrat, manager of men and resources, and above all a God-fearing gentleman?
As a Group Chief Financial Officer of Zenith Bank Plc, he performed his duties with precision and that earned him another higher position of authority in the bank. His type is well sought after by establishments that cherish growth and standards, no wonder when he left Zenith bank in 2019 to join the murky waters of politics to seek to be the governor of Imo state; it did not take him time to become a house-hold name in the state. His opponents feared him because of his inherent attributes he already parades as his unique selling point (USP).
Therefore, for the board of Fidelity Bank Plc to appoint him recently as Executive Director, Chief Operations and Information Officer following the approval of the Central Bank of Nigeria confirms his description as a fine gentleman. According to a disclosure filed to the Nigerian Exchange, the appointment is in furtherance of the Bank's strategic objectives.
The bank however, expressed the confident that Stanley Amuchie will make significant contributions to the Bank's growth and development and looks forward to working closely with him. What another fantastic endorsement of his credentials and quality?
Amuchie has over 23 years of experience in the banking and financial services industry. He joined the board of Fidelity Bank Plc with impressive multi-functional work experience spanning banking, audit, risk management, corporate governance, quality control, operations and information technology, strategy, financial control, business and financial advisory, accounting, general management, business development and consulting.
His brief background indicates that in September 1995, he started his professional career serving at Arthur Andersen (now KPMG Professional Services) until February 2000, when he joined Zenith Bank Plc as General Manager and Group Zonal Head. As recognition of his contribution towards the success of the bank, he was honoured with the award of the best performing staff of Financial Control and Strategic Planning Department in 2004 and 2006 by the GMD/CEO of the bank.
At Zenith Bank, he enjoyed over 18 years which culminated in his appointment as Group Chief Financial Officer in July 2015 and Group Zonal Head in June 2018, a position he held until his exit in October 2018.
During his stay at Zenith Bank, Amuchie served as a Non-Executive Director on the Boards of Zenith Trustees Limited, Zenith Bureau De Change Limited, Zenith Nominees Limited and was Chairman of the Board of Directors of Zenith Securities Limited and was appointed as the Chief Technical Consultant at Mint Financial Technologies Limited between April 2019 and February 2021.
Amuchie holds a Bachelor of Science Degree (First Class Honours) in Industrial Chemistry from the University of Benin alongside a Master of Science Degree in Corporate Governance from Leeds Metropolitan University (now Leeds Beckett University) United Kingdom (UK) in 2014. He also attended several leadership and executive development programmes at world-class business schools including INSEAD France, Harvard Business School and Lagos Business School.
He is a Fellow of the Institute of Chartered Accountants of Nigeria (ICAN) and an Honorary Senior Member of the Chartered Institute of Bankers of Nigeria (CIBN).
His passion to cater for the welfare of the less privileged persons in the society culminated into his founding a non-governmental organization (NGO) known as Goodlight Foundation. This foundation empowers youths, women and providing shelter for the poor, sick and abandoned children.
As Nigerians celebrate the right choice of the Fidelity management and the Central Bank of Nigeria by endorsing Amuchie to this plum job, it is the prayer of all sane minds especially those who have been imparted positively through his magnanimous gestures that he would continue to excel to the benefit of the growth and development of the bank and to humanity in general.