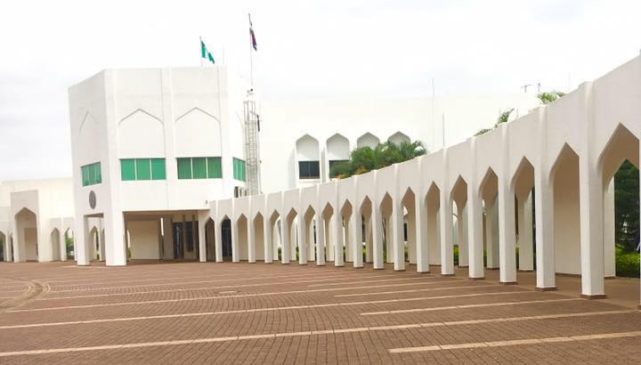 Reports emanated recently to the effect that ahead of the anticipated inauguration of Nigeria's president-elect, Bola Ahmed Tinubu, on May 29,  renovation work by the outgoing administration of President Muhammadu Buhari at the Aso Rock Villa Abuja, was on-going.
It has been reported that ahead of the swearing-in of the President-elect, Bola Tinubu on May 29, the State House Management has begun renovating and refurbishing sections of the Presidential Villa, Abuja.
Media reports which emanated weekend,  observed on Friday, that the concrete perimeter fence encompassing the president's office, official residence, the council chamber, press gallery, as well as other administrative offices were being overlaid with new white and green paints.
It was further gathered that a senior State House official, who spoke to the press on condition of anonymity, said the maintenance was part of the tasks carried out by the Presidential Transition Council chaired by the Secretary to the Government of the Federation, Boss Mustapha.
President Buhari had on February 14, 2023,   inaugurated the 22-member Presidential Transition Council ahead of the handover to the incoming government. In April, the President-elect, Tinubu nominated 14 more persons to join the transition council.
Some officials of the present Buhari-led federal government had claimed that the changes and upgrades were part of broader maintenance works; that some were routine, while others, like the painting, are done when the Villa is to host a new occupant.
Another version of the Aso Rock Villa renovation story hinted: "Repainting is required because, over the years, the State House wildlife accommodates monkeys that roam free and stain these white walls.
"The bats we have here also deposit their droppings on the walls."
Whatever the reasons for the said ongoing renovation of the presidential Villa are, the project is coming on a huge financial cost to the country.
It was reported that since 2016, N3.05bn has been earmarked for "maintenance services" at the State House. These according to reports include; maintenance of office furniture, office buildings and residential quarters, among others.
There appears to be non disclosure of the cost implication of the reported on-going renovation of the presidential Villa.
This newspaper is of the persuasion that with the myriad of socio-economic challenges facing the nation presently, it is tantamount to misplacement of priorities, insensitivity or sheer waste for the out-going Buhari administration to venture into the said renovation project. At best, the out- going administration, with less than four weeks to exit, ought have  left the project to the incoming administration.
This is moreso, as the  the would-be administration of Tinubu would still do its own renovation work after the inauguration  At best, the huge sums of naira earmarked for the said Aso Rock Villa renovation, could have been channeled to more pressing issues like widespread insecurity, , high fuel price, rising food prices, high cost of living, and general hardship.
NIGERIA NEWSPOINT