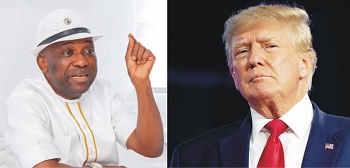 The Leader Of INRI Evangelical Spiritual Church, Primate Elijah Ayodele is not just about political prophecies, his prophetic warnings go beyond revealing the outcome of elections. He gives prophetic warnings to personalities on what they will encounter and they always end up coming to pass.
The crises currently faced by the former president of the United States Of America,Donald Trump has fulfilled the word of prophecy Primate Ayodele gave to him shortly after his tenure ended.
It would be recalled that Primate Ayodele was the only prophet that foretold the end of Donald Trump's reign in the United States Of America. There was no indication that Donald Trump won't return as the president when Primate Ayodele released his prophetic statement. This was in early 2019 and he also categorically stated that Joe Biden will be the next president if the Democratic Party chooses him as a candidate.
Shortly after Donald Trump left office, Primate Ayodele revealed that he will face several litigations and that he will be rocked with different legal cases. He first made this statement in 2020 and noted that the legal cases will disgrace him.
These were his words
"Donald Trump will face some legal challenges that will disgrace him when he leaves government. This is why He is yet to accept defeat."
In a video shared on his church's social media page, Primate Ayodele made it known that Donald Trump will face legal issues and that people will soon understand what he meant by his statement.
These were his words ''They will want to rock Donald Trump with various cases so watch it, very soon you will understand what I am saying.''
As Primate Ayodele warned then, Donald Trump is currently enmeshed in legal cases that may disgrace him if care isn't taken. He is in a mess for allegedly covering up hush money payments to porn actress Stormy Daniels during his 2016 presidential campaign. According to media reports, the grand jury has been hearing evidence in connection to the case for weeks, including the testimony of key witness Michael Cohen, who allegedly made the payments to Daniels.
Trump could be indicted or formally charged for covering up payments discreetly made to Daniels during his 2016 presidential campaign. According to Reuters, Manhattan District Attorney Alvin Bragg presented evidence to the grand jury about a $130,000 payment to Daniels in exchange for her silence about a sexual encounter with Trump in 2006.
NIGERIA NEWSPOINT