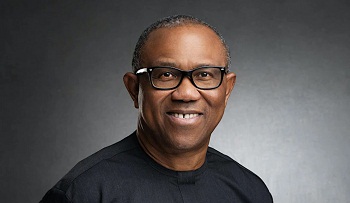 The  Labour Party Presidential Candidate, Mr Peter Obi, has paid  about N1 million to offset the medical bill of one Mrs. Blessing Usulor, a resident of Enugu state, abandoned in a hospital.
Usulor, in June 2022, was rushed to the Hopecare Medical Centre, Enugu by her neighbours when she slumped in her quarters within the IMT Campus-4 axis of Enugu.
Presenting a cheque on Wednesday to the Medical Director of the Centre, Obi, who was represented by Ambassador Bianca Ojukwu, extolled the hospital management for putting life first before monetary consideration in terms of payment of deposit.
He said that the exemplary conduct of the hospital by seeing to the survival and total recovery of the patient showed "the New Nigeria we all are yearning for".
According to him, the recovery of Usulor and the examplary conduct of Hopecare Medical Centre is a shining example that with love and care, Nigerians have the capacity to rebuild this great country, once more.
"I was indeed shocked when I learnt about the Usulor story through Ambassador Ojukwu.
"We have to bear each other's burden, be our brother's keeper and create a Nigeria that works for everybody and we can be proud to call our own and home," he said.
Responding, the Medical Director of the Centre, Dr Samuel Ngwu, said that the said patient  was admitted few days in June, 2022 and was brought to the hospital in a coma by neighbours living within her quarters.
Ngwu noted that she stayed in a coma for a whole 10 days and her medical case was with some complications.
According to him, these complications include renal failure, which involved the hospital carrying out a dialysis, diabetes complication and eventually she also developed ulcers due to a long stay in bed.
"As God may have it, she recovered. In the beginning, there was no monetary deposit and my staff brought that to my attention.
"And my answer was that a 22-year-old person will never die in my care because of money.
"So, we continued to treat her; and after the treatment, paying the medical bill became a challenge after she was discharged on July 1, 2022.
"Since then, she could not meet up with her bill and she had been here while the husband that also came with her two-year-old son later abandoned both her and her son till date",the doctor explained.
NIGERIA NEWSPOINT