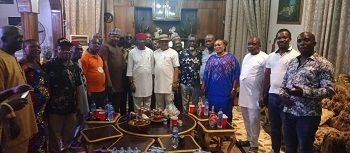 By Onyinyechi Nwankwo
Thrilled at the level of development and progress in Imo State, members of National Union of Road Transport Workers (NURTW), have lauded the good work of Governor Hope Uzodimma and his Deputy, Prof. Placid Njoku.
They mentioned that the Shared Prosperity led government is doing solid road construction and rehabilitation in the state.
NURTW through its state Chairman, Hon. Samuel Udeh (Ezeumuokorobia), gave the commendation when it paid a courtesy visit to the Deputy Governor at his native home, Amaimo,  Ikeduru Local Government Area, recently.
Appreciating Njoku for his warm welcome and great support to the Governor in developing the state, Udeh said the Governor did not make any mistake in picking him as his Deputy, affirming that he is a learned man who has been a wonderful partner to the Governor.
Udeh seized the opportunity to also tender the Union's good will message to the Governor who he noted has been mindful of the Union's activities, paying attention to its needs and carrying it along in his administration, disclosing that the Governor has always demonstrated kindness and love towards Imo drivers especially during the Yuletides by giving them free fuel.
He noted that the union has always supported the shared prosperity government and will continue to do so, pointing out that NURTW in Imo has organized programs in the state aimed at supporting the agenda of the government to make Imo great and accident free state, pointing out that program such as the Emergency First Aid Training of its members to equip them with knowledge of rescuing and saving lives of those involved in road accident, by administering the first aid on them before they are taking to the hospital for medical attention, was organized among others.
Expressing happiness with the Governor for seeing to the fixing of Ekemele Road among other roads, the union appealed to the government to do more and look into fixing the suburb roads, focus on maintaining these roads in order to arrest completely the issue of traffic jam, adding that policemen who extort money from every commercial driver also contribute to traffic jams in the state, so should be called to order, suggesting that motor parks for all routes be created and professional traffic wardens be employed at strategic road points too to aid free flow of traffic.
Responding, Njoku expressed profuse joy for the visit, commending them for being a formidable group which supports the present government in promoting the 3R mantra, assuring the union of his support and the Governor's readiness to pay  attention to its needs when called upon.
Njoku informed that the government's aim for removing roundabouts in the metropolis and setting up traffic lights is for free flow of traffic, remarking that government is willing to go extra miles to establish sanity in the state while fighting congestions at market roads, assuring that  government would ensure that vehicle numbers are computerized to quickly check traffic as well as apprehend defaulters.
NIGERIA NEWSPOINT