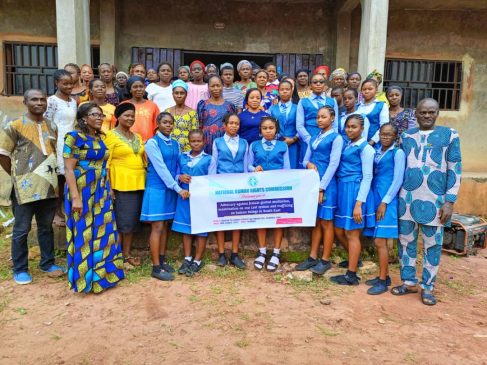 The National Human Rights Commission (NHRC) in collaboration with Cezimo Nigeria Limited has staged an advocacy campaign against human trafficking, female genital mutilation, stigmatization against persons living with HIV/Aids and Osu Caste System in the South East.
While speaking at the event held at Brainchild School Alulu, Ngor-Okpala LGA, Imo State, St. Claver's Catholic Parish, Umuleghele in Isiala-Ngwa South LGA, Abia State, Madonna Secondary School, Uga, Aguata, Anambra State and other places in South East, the NHRC resource person, Dr (Mrs) Bena Okonkwo defined human trafficking as "The recruitment, transportation, transfer, harbouring, or receipt of persons by means of the threat or use of force, or other forms of coercion, of abduction, of fraud, of deception, vulnerability or of giving or receiving of payments or benefits to achieve the consent of a person having control over another person, for the purpose of exploitation."
She disclosed that findings  have revealed that more women are trafficked than men as mostly younger women between the ages of 14 and 35 years are the most vulnerable.
Dr. Okonkwo advised mothers to be vigilant to avoid situations where their daughters and sons would be deceived and lured into perilous adventures abroad in the search for greener pastures.
Lamenting further on the implications of human trafficking in Nigeria, Dr. Okonkwo disclosed that such development has continued to pose a threat to  economic development, advancement and human capital development as well as sapping the potentials of the nation by frustrating the aspirations of the young people.
While enumerating the health implications of female genital mutilation, which according to her, include bleeding resulting from the ruptured veins and arteries in the clitoris, injury to nearby genital tissues like the anus and urethra, Dr. Okonkwo enjoined religious leaders, health workers and community leaders to join the advocacy against such practice.
On the stigmatization and discrimination against persons living with HIV/Aids,  Dr. Okonkwo posited that such behaviour has kept people away from seeking HIV/Aids information, adopting preventive measures, getting tested, disclosing their serostatus and assessing treatment.
"Rather than stigmatize and discriminate against HIV/Aids patients, we should sympathize with them and encourage them to seek for medical care in recognized hospitals", she posited.
Speaking further on the obnoxious Osu Caste system in some parts of Igbo land, Dr. enjoined traditional rulers, governors, church leaders and other stakeholders to come together and abolish it to enable the future generation to live in peace and harmony.
In his brief remarks, Tony Nwodo, who represented Cezimo Nigeria Limited said the advocacy is conceived to educate the people especially those dwelling at the rural areas on the dangers of those obnoxious practices that rob off the dignity in human beings.
He tasked the participants to spread the message to the churches, women groups and to their families to make the society better for everyone.
The events attracted the presence of the Civil Society community led by Comrade Chibundu Uchegbu, community and religious leaders as well as other stakeholders.