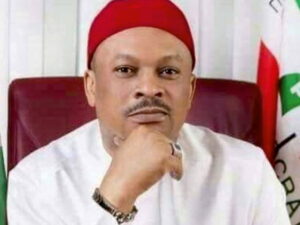 …Says: Party more united now than ever
The National Secretary of the Peoples Democratic Party,PDP, Senator Samuel Anyanwu has assured members of the party in Imo state and Nigeria at large to remain committed, assuring them that no individual whatsoever can undermine their relevance and hijack their positions in the party.
Anyanwu says that what makes a political party to thrive and win election is the collective efforts of all members, and warned against act capable of promoting segregation, rancour, acrimony and disunity.
The PDP leader maintains that if the party must realize its relevance in the 2023 elections, there is need for members to come to a round table to chart a new cause without injuring anyone's interest.
He advised party leaders to shun blackmail, and infighting occasioned by fake news, saying that what is important now is how the PDP can win the 2023 elections.
According to him, "political parties are like churches and open to all. The idea of discrimination, name dropping, rancour and acrimony against leaders and members of our party should stop. If we remain disunited and envious of our member's political achievements, the vision of securing victory in the 2023 elections will be a tall dream"
"We should remove pride, be humble and genuinely determined to cease power from the ruling All Progressives Congress (APC); but the way we are going about it has much to be desired. No one wins election by forming destructive camps within his family", he noted.
Anyanwu says that reason why people are not willing to come out openly to work for PDP is because they are afraid that after working, strangers will dominate and take over the whole thing.
"I want to appeal to all of us to forgive and forget whatever you passed through when our party was hijacked by those with divisive tendencies; if we continue to remember how some of us were insulted, humiliated and pushed aside, our determination to win the 2023 election may not be achieved. Let us come together as a family and defeat our common enemies", he stated.
The PDP stalwart therefore admonished party members not to relent in their efforts to give their best to the party, and promised to ensure that no one is humiliated again in the affairs of the party.