Palpable fear has enveloped the residents of Agbor, in Delta State, Nigeria, over a clash of communal land.
What appeared like a generational battle is said to have been the lot of the present generation, as two communities, Umunede and Emoho have revived the land issues that was layed to rest few years ago.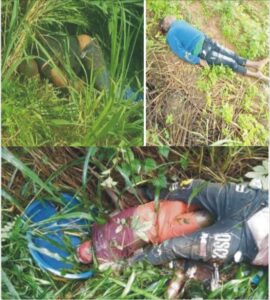 It was a bloody weekend, Friday December 27, 2013, as the two waring communities of Umunede and Emoho layed a manslaughter over claims to right of ownership of the land in their common boundary.
Trouble was said to had ensued when Umunede youths attacked those of Emoho in the forest as they fetched firewood.
According to an eye witness account, many youths numbering over twenty were reportedly killed on the spot on account of the fiasco.
Angered by the siege in their village, Emoho Community who have been laying claim to ownership of the land reportedly held an emergency security meeting for all indigenes, especially the youths.
It was further gathered that the outcome of the meeting necessitated an order demanding that all male Youths be prepared and armed for war, as guards for the community.
Unfortunately, while others willingly agreed, one teenager, Alfred Mathew withdrew and resisted from taking part in the said community war.
Angered by report of some youths' ,including Alfred's refusal to take part in the land debacle , the traditional ruler was said to have decreed that any of the youths who refused and by so doing disobey the order of the community, would be tortured to death to serve as a deterrent to other youths who would want to shrink back from the said war.
It was further gathered that Alfred Mathew's father, died years back for the same land battle, leaving only Alfred's aged mother, a brother and two sisters in pains.
Reacting, Mrs Tiny Chukwuemeka opined, "Maybe after remembering how his father died trying to fight for the sake of the same community land, his young son decided to resist any attempt to embark on same suicide mission that had consumed his father", .
Alfred was said to have ran away from Emoho, his primitive community, as well as others.
Further investigation revealed that the youths of the community carried out the threat by setting Alfred Mathew's poor house ablaze as well as those of other recalcitrant families.
Not only that, in the course of searching for the whereabouts of Alfred, the angry mob was accused of beating up his mother, while the siblings deserted their father's house to seek refuge.
However, residents of the area have been living in fear, for fear of the unknown.
Other youths, it was equally gathered were said to have gone into hibernation until peace and normalcy is restored between the two waring communities.