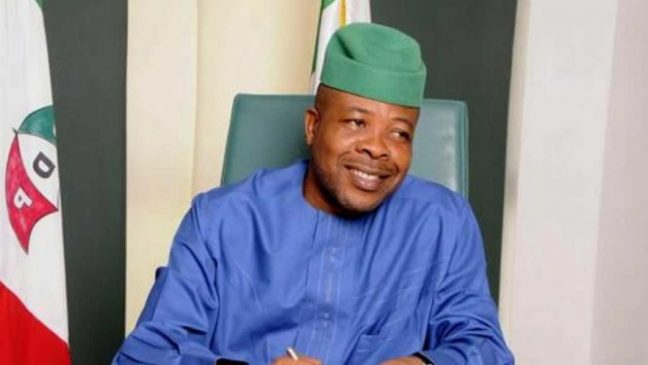 …Calls for unity, drums support
It has come to our attention that some disgruntled politicians and their allies have commenced the orchestrated campaign of calumny against former governor of Imo State, His Excellency, Rt Hon Emeka Ihedioha, CON. The perpetrators of this indecent and unguided media and political missiles are mostly moles within the People's Democratic Party, PDP, and their ruthless associates from the All Progressives Congress, APC.
From all available records, these wolves in sheep clothing plotting against Ihedioha are mostly those who failed to pick nomination forms or return tickets in the last primary elections of the party. It is unfortunate that instead of joining hands with Ihedioha who has remained unshakeable and roundly committed in his overall support and building of the party for more than two decades now, these estranged elements  are ingloriously teaming up with the the opposition to destroy the party for their selfish interests.
Instructively, the 2023 governorship election in Imo state is not about Rt. Hon Emeka Ihedioha but the collective interest of Owerri zone which must put her best foot forward.
It is even more disturbing that some officers of PDP who ought to be working for the progress and unity of the party for the purposes of electoral successes at all levels in the state, astonishingly,  the ones fanning the embers of discord  and hatred by making themselves willing tools to the serving state actors of APC.
We, the members of Owerri Zone Patriotic Front ( OZPF), totally condemn the infantile even sustained affront, calculated assault as well as all other forms of political gimmicks and recriminations  aimed at not just at embarrassing Ihedioha., but we also frown at such sordid sophistries meant to divide the PDP in Imo State in general and Owerri zone in particular.
For the sake of clarity and emphasis, we urge all the nine Local Government Areas (LGA) in Owerri zone to continue working together socially, culturally and politically in order to maintain a united front in all we do. This will make us to be more united and progressive in Imo State political calculus. This way, no politician, no matter his background strength or zone, will ever take us for a ride. The point here is, united we stand, divided we fall. And, if we don't bend our back, nobody will ever climb on it. Our numerical strength, unity of purpose and courageous inclination must be kept intact for success at all time.
It is obvious that those recruited to disparage Ihedioha are convinced that the overwhelming majority of the Imo people still love him for his immaculate performance and superb delivery in his seven months stewardship. Unfortunately for them, no amount of dangerous propaganda to deceive  Imolites will succeed. Imo electorate now know the difference between  light and darkness .
We, therefore call on these detractors in PDP and traducers of Imo people in APC, to desist from their apparent destructive politics and join hands with Ihedioha to secure victory for PDP in the state in 2023. We urge our people to resist any plot to undermine the interest of Owerri zone.
Long live PDP
Long live Imo State
Signed: 
Dr. Joe Ugwudinobi
(President)   
Sir Matthew U. Mbaegbulem
(Secretary) 
Chief Amadi Anyadike 
(PRO).
NIGERIA NEWSPOINT