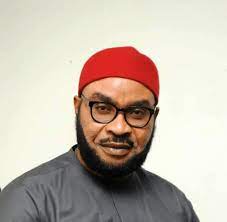 It has been often empathized that the next political dispensation in the country and in Imo State in particular will pull a lot of surprises to the constaination of the acclaimed political big wigs in the game.
As the political horizon continue to gather momentum, while candidates of various political parties are busy making their consultations known for their political unslaught as INEC will soon lift its embargoe to have way for political campaigns.
One of such eagles and a force to reckon with  whom the hope seem to beckon on to lift Owerri Senatorial district from its present quargma and underdevelopment, Chief Barr. Chyma Anthony( Odiuko), an unassuming gentle man, a new breed and philanthropist,  who   assisted and  contributed immensely to human capacity development that earned him a Chieftaincy title as' Odiuko'.
His likes are very rare considering the services he has always rendered to humanity in his private capacity as a business man and scholar to his immediate Constituency of Ikeduru and others across the length and breath of Owerri Zone.
Odiuko' is a lawyer by profession, a technocrat as well as a home grown philanthropist,  facts are  confirmed how the people of his Constituency talk good about him and are known to  always be praying  and wishing him good tidings.
Odiuko' as he is fondly called by his admirers is the All Progressives Grand Alliance,APGA candidate for the Imo East Senatorial district ( Owerri Zone) contesting for the red Chambers seat in the National Assembly, Abuja.
He already has his wealth of credentials on how best he could articulate the Owerri Zone will be made to function effectively, promising to be strong voice for his people.
Chief Odiuko who began a wide consultations with the major stakeholders of his party, APGA also transcends to the grassroots people including the physically challenged persons while he continues to receive supports and solidarity from them.
He assured them of his commitment to bring Owerri Zone to an enviable position amongst its contemporaries with no wavery.
Speaking further to a group of young men and women under the aegies of 'Owerri Zone Advocates for  Quality Representation' at his campaign office in Owerri recently, told his audience that he is a firm believer of the mantra, that says; government is of the people, by the people and for the people, but expressed disappointment that rather than those that were voted into offices to champion the course of the people by bringing the dividends of democracy to them, instead they choose to represent themselves, their families and friends only, while the zone continue to be in lack of a robust production and failure to build human capacity development whereas the provisions are there to do the needful.
Chief Barr. Chyma Anthony ( Odiuko)being an illustrous son of Umuori, Iho Dimeze in Ikeduru LGA of Imo State promised to bring to bear those dividends that have elluded them when voted into office in 2023 general elections, adding that his tenure as the people's senator will rekindle all those necessities and welfare by making sure Owerri Zone moves forward again.
He emphatically told the youths he would   sponsor bills that will bring amendments to trash those obstacles working against the creation and availability of jobs for the production categories in the society so that his Constituency will benefit from it.
Odiuko who believes his entrant into the Senatorial race for Owerri Zone was borne of his desire to serve his people better, said he was not disturbed nor be intimidated by the arrays of his fellow contestants who also seek the same position, but maintained he was in the race as a strong contender and not a pretender, adding that he has all it takes to occupy the position which he seek for and called on the people from the zone to give him their support  to enable emerge the winner.
Among the bills he promised to sponsor are   bills that will guarantee independence of Local Government Councils to protect them from the weight of the states executives that disband the elected persons with a reckless abandon by successive administrattion at will without due recognition of the Constitution in addition to maintain a  bill that guarantees the freedom of air to enable the local governments in Nigeria to function without undue interference from their states executives among others.
He noted that, his representation will attract Federal government presence into the zone and the state at large.
He assured them of equal recognition and promised to run an open door policy to accommodate all and sundry.
He announced  that, he has no political god- father, that the people are his strength in adding to his strength from God whom  he depends mostly on.
He again assured them of his  pedegree and capacity as he was prepared to slog it out with others , noting that he is  the best qualified and the chosen one for the seat, even as he advised the youths to vote according to their conscience and not to succumb to monetary inducement that will make them go sober again for the next four years.
The leader of the group, Comrd. Cornelius Ahaneku onbehalf of his members thanked the APGA  Senatorial candidate for given them the audience to interact with him in this capacity, adding that this, " Underscores your humility of youth friendliness you are  known for, while we assure you, we shall work for your victory because we are quite convinced you will not default to give us your best representation unlike what we  have experienced in the past.
"All we are urging you is to remember this day of our meeting to keep to your promises when you eventually assume office."