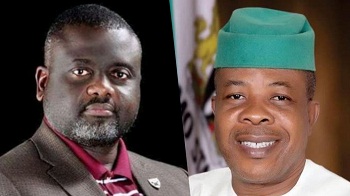 A group, Coalition of Imo Young Leaders ,CIYL has called on those blaming erstwhile governor of Imo State, Rt. Hon Emeka Nkem Ihedioha for the disqualification of the candidate of the Peoples Democratic Party, PDP for Imo West Senatorial District, Jones Onyereri to desist forthwith.
According to the CIYL, Ihedioha, a former Deputy Speaker in the House of Representatives has no hand whatsoever in Onyereri's disqualification by the Supreme Court.
Speaking with to Journalists on Thursday in Owerri, the Publicity Secretary of CIYL, Ebuka Nelto Mbamala asserted that there was no way Ihedioha would have been instrumental to Onyereri's ordeal when he (Ihedhoha) had been similarly dealt with by the apex court.
Mbamala insisted that Orlu leaders should rather be held responsible for not living up to expectations and responsibilities.
In his words; "Orlu leaders should be held responsible for not living up to their responsibilities and expectations.
"Ihedioha as the leader of the party had gathered all stakeholders and candidates, asking for out-of-court settlement for all contentions and the way forward for the party?
"From our sources in Imo PDP, Ihedioha remains the most pragmatic leader who is poised in giving right leadership at all times to the party and focused in ensuring that good governance is brought back to our state.
"Enemies have invested so much bad blood  in Ihedioha and Jones' relationship, Ihedioha as the symbol of good governance in Imo State can't continue to be maligned at all times", the group asserted.
The Inability of the Orlu zone leaders to reconcile Jones Onyeriri and other aspirants in the same primary election caused the tragidy. Hence Orlu leaders should be held responsible for the misfortune that has befallen the zone.