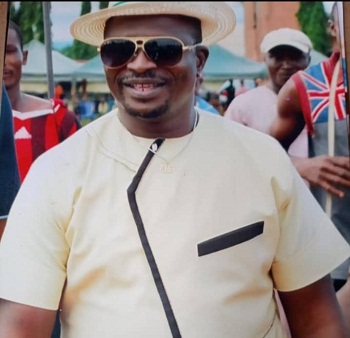 …SOLAD: If act will give peace, let it be
The Sole Administrator of Orsu Local Government Area,SOLAD, Hon. Onyekachukwu Ezenwa has described as inhuman and wicked the recent violent incident of burning his Country home and that of the former member of  Imo State House of Assembly and APC Candidate for Orsu State Constituency, Hon Uche Agabige at their Eziawa native Community in Orsu LGA.
Hon Ezenwa said he  was saddened with the news on that faithful night of  January 5,when he learnt that his Village house was set on fire by "Umuoma", the unknown gunmen alongside the former House member,Hon.Agabige.
He lamented  that he couldn't understand why anybody should target them for such inhuman act.
Speaking to newsmen recently on the state of things in his Council Area, the  business man turned politician said that he wouldn't know the purpose of the arsonists behind the dastardly act, recalling that the recent act of arson was  a continuation of the spate of burning of houses and bloodletting that had characterized the activities of the hoodlums ravaging the Area in the last two years.
The SOLAD  regreted that such acts of brigandage is not healthy and should be condemned by all and sundry because nobody knows whose turn it would be next.
He stated that he  has accepted his fate and that if burning his house would  be his own sacrifice for peace and orderliness to return to Orsu LGA,so be it.
The youthful SOLAD  regretted that despite his sacrifices and efforts to bring the rampage to a halt, those behind the insecurity in the Area are still not done. He revealed that he had since his assumption of office made moves and put serious efforts by reaching out to all and sundry so that peace could return. According to him,"I have been calling them, talking to them but they refused to come"
Hon Ezenwa suspected that what might have triggered the recent arson and burning down of his house could be because he asked them to leave his Council Area since they were not disposed to peace and repentance, and that their response was to burn down his Country home. He said that all efforts he made to reach out to them to back down from their nefarious activities was on the strength of the Governor's promise to grant amnesty to repentant ones amongst them .
This promise,he informed  has to a reasonable extent yielded result with few of them showing remorse and denouncing their old practices. He revealed that those who  shunned his overtures got aggrieved that a few of their members got converted, repented and shunned their old ways of perpetrating violence.
On the state of things since the burning of his house, the SOLAD  observed that the situation is calming down and retuning to normalcy with the help and intervention of the Governor,  Sen. Hope Uzodinma who according to him has done so much to restore peace in Orsu LGA. He however said that the people of Orsu has it as a duty to rise to the occasion and take over their place from the unknown gunmen whom he revealed are predominantly strangers who have  invaded their area. He reminded the indigenes that the houses and lives being wasted are that of Orsu people and that the State government was determined to give them maximum support to move in and reclaim their Council Area.
Admonishing the youths of Orsu to regain their consciousness,wise up and realize that they have no other home apart from the place being destroyed currently , he commended the Imo State Governor, Senator Hope Uzodinma for the great efforts and sacrifices he has made to resuscitate Orsu.
He further urged the governor  not to be tired but , go on and still do more to fully recover the  area.
NIGERIA NEWSPOINT