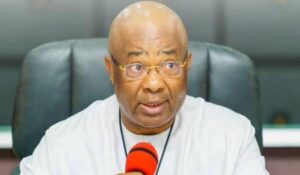 …Shames opponents, doubting Thomases             
By Peter Uwa
Action, they say, speaks louder than words. And, " if a man's way pleases the Lord, he will be at peace, even with his enemies".  It is indeed, marvellous that the President and Commander-In-Chief of the armed forces of the Federal Republic of Nigeria, His Excellency, Muhammadu Buhari for the second time in history, and in less than one year, put aside every other official engagement to personally commission landmark infrastructural projects executed by Imo state governor, Senator Hope Uzodimma.
The signature projects namely, the  37-kilometre Owerri-Orlu world class road, the Owerri-Okigwe first class road which extends to Anara in Isiala Mbano and will terminate at Okigwe city centre soon as well as the ultra modern Imo House of Assembly complex, the biggest state house of assembly edifice in Nigeria fully rehabilitated and superlatively equipped by the less-than-3-year-in-office Uzodimma administration are live-saving projects very dear to all Imo people. In the words of the visiting President, "Hope Uzodimma is using developmental projects to write own history. Uzodimma promises and delivers". Facts are indeed, sacred and every word from the mouth of the President of Africa's biggest country goes beyond the shores of this land.     The news of the president's second official visit to Imo state under the Uzodimma  administration was dismissed with a wave of hand by political opponents and doubting Thomases who kept telling people of little faith that it would never happen. To the glory of God, Mr. President, Nigeria's Number One Citizen, the Commander-In-Chief of the armed forces did not send a representative, he personally, undertook the projects commissioning in Imo state of Nigeria, knowing that the state is not only safe but also, has meaningful projects to be commissioned. The president came, saw and commissioned the monumental projects and went back to Aso Rock without qualms.
Meanwhile, lmo people of different political ideologies, political parties, religious backgrounds and professional  inclinations have continued to pour encomiums on Governor Hope Uzodimma and members of his cabinet for not only delivering the projects dead on target but also, attracting one of the most powerful presidents Nigeria has ever produced to Imo state for a second time within a short period of time. One of the hot-headed opponents of Uzodimma administration who spoke to news men on condition of anonymity shortly after the president's visit last Tuesday had this to say, " I did not believe in Uzodimma and his APC but, each time I  recall in mind, the terrible condition of the Owerri-Orlu and Owerri-Okigwe roads before the inception of the Uzodimma administration, I quickly come to the conclusion that the governor has actually done something great. In fact, he has saved a lot of lives that would have by now, perished on those two roads that are critical to the economy of our state".
Good enough indeed, Imo people of today have become wiser and more patriotic than Imo people of yesterday. What this means is that,  by the end of this last quarter of the year, 2022,  the Uzodimma administration would have consolidated on it's enviable crusade  and in practical reality, of enormously transforming the infrastructural landscape of Imo state to the extent that 95 percent of the people, including members of the opposition that are   now clapping for Uzodimma over visible evidence of good governance would have no option but to ask any one wishing to challenge the highly performing governor's reelection to cool it off and wait for another opportunity to experiment on a new formular of piloting the affairs of the state. Imo people should be wise enough to wine and dine with the very Pharoah who knows Joseph. What counts in politics is having a go-getter who truly, is a favoured child and one capable of pulling down the hand of mercy of the powers that be. And the, Omuma-born Prince,   a Distinguished Senator of the Federal Republic of Nigeria, Hope Uzodimma has severally, proven to be that favoured child
NIGERIA NEWSPOINT