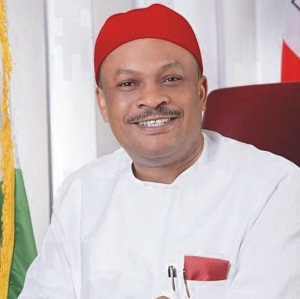 The attention of the National Secretary of the Peoples Democratic Party PDP, Senator Samuel Nnaemeka Anyanwu(Samdaddy) has been drawn to  a mischievous and frivolous story on the  Social Media that he has pulled out from the Presidential Campaign Council of Alhaji Atiku Abubakar.
The story is totally false and baseless and therefore, should be disregarded.
However, such petty propaganda and campaign of calumny is meant to blackmail the PDP National Scribe and create infighting in our party.
It is worthy to note that the falsehood remains the handiwork of enemies of our party struggling to distract Senator Anyanwu and his colleagues who are out to end the APC,s misrule in Nigeria.
The PDP National Secretary further assures Nigerians of the party's readiness to oust President Muhammadu Buhari's led government, and thereafter, enthrone good governance that will be anchored on transparency, sustainable and human capital development .
NIGERIA NEWSPOINT