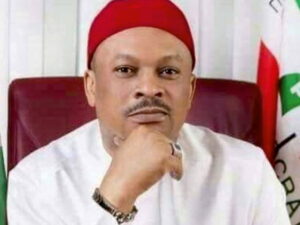 "Your bad conduct Sacked 300 teachers"
A Group of organized youths from Okigwe zone has called on the Imo state government to immediately facilitate the arrest of former Chairman of Imo state Universal Basic Education Board (IMSUBEB), Prof Obioma Iheduru over the whereabout of N4.2 billion meant for contractors that handled the Board's projects during his tenure.
The call came few hours after a report in  an Owerri based  tabloid credited to Prof. Iheduru warned the PDP National Scribe,Sen Samuel Anyanwu to stop blackmailing Chief Emeka Ihedioha in the Media.
Reacting to the publication, Barr Emeka Uchegbulam on behalf of the group, "Igwebuike Okigwe Youths (I.O.Y) maintained that due to the manner in which Iheduru handled the funds earmarked for the construction and renovation of class room blocks across the state, some of the projects already awarded were not executed.
He said that due to how the funds were allegedly misused by Prof Iheduru and his accomplices leaving Contractors to their fate, some of them who borrowed money from Banks lost outrightly their properties and values.
Barr Uchegbulam further accused Prof Iheduru of highhandedness as Chairman of IMSUBEB, adding that his greed, selfishness and administrative incompetence led him to engineer the sacking of over 300 IMSUBEB Teachers in the state.
He wondered when Prof Iheduru became the spokesperson to Chief Ihedioha, noting that such careless statement from him was capable of sparking off fresh internal crisis in PDP.
"At the level  of Sen. Anyanwu as the  National Secretary of PDP, , no reasonable person will listen or believe Prof Iheduru's  diatribe that Ihedioha stands any chance of opposition to him to the extent that he will dream of sponsoring media blackmail against him.
Senator Anyanwu I know is very quiet, humane, humble and articulate. He talks  less but garnishes his words with action. He is doing more tactical work for PDP than these noise makers and we know the direction we are heading in 2023",he stressed.
Barr Uchegbulam,who hails  from Osu clan in Isiala Mbano LGA  expressed sadness that at Prof Iheduru's level in life, he was still struggling to stand firm, if Chief Ihedioha does not offer him appointment.
The youth leader recalled  that as Vice Chancellor of Madonna University, no tangible project can be traced to Prof Iheduru, stressing that the only thing he did well was alleged coordination of sorting and organized corruption in the institution.
Describing Prof Iheduru's comment as careless and bereft of wisdom, he  advised him to be silent in his latest assigned duty of bootlicking and washing of Ihedioha's inner wears, and cautioned him to desist from engaging in a war he may not win.
Barr Uchegbulam therefore called on Iheduru and his likes still parading themselves as PDP members to join hands with the party's national Scribe in his bid to revive and strengthen it in  Imo  state.