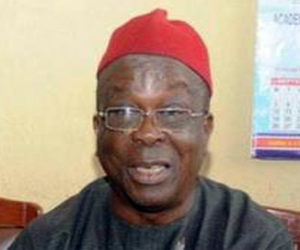 Prof Ukachukwu Awuzie former Vice Chancellor of IMSU, former ASUU President and a chieftain of Orluzurume, a social- cultural organisation in Orlu zone have stated that it will be immoral and unacceptable for any Orlu son to aspire to be governor of Imo State.
In a keynote speech made at an interactive session with Senator Ifeanyi Araraume, the erudite Professor said that Orlu would not support any of its sons to aspire to govern Imo in 2019.
Prof. Awuzie described it as a wicked plan for any Orlu son to want to take over Douglas house in quick succession.
On the issue of Urban renewal, the fellow of the Institute of Architecture opined that what is happening in the state is not urban renewal but expansion of existing roads. He challenged the government to an open
debate where he will prove them wrong.
He wondered why globally and locally the issue of global warming is been on the front burner, but the government of Imo State has been busy destroying all the vegetations and flowers planted in Imo state by previous administrations.
In conclusions he averred that Imo needs a leader who will squarely address the problems which this administration has plugged it into.