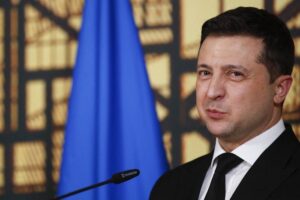 By Alex Nwahiri
The Ukrainian President Volodymir Zelensky today called on the international community to take immediate steps to end a Russian blockade of his country's ports to allow wheat exports and prevent a global food crises.
President Zelensky made the call to the European Union Council president Charles Michel who is visiting Odessa, a major black sea Port in Ukraine,  for exporting agricultural products.
President Zelensky didn't specify what measures that he would like the council to take but NATO members including the United States have ruled out direct armed intervention to avoid triggering off a wider war.
The European Council president  Michel confirmed seeing silos full of grains, wheat and corn in Odessa that were ready for export but blocked.
This badly needed food is stranded because of Russian war and blockade of the black sea ports causing hunger in many developing countries.
Russian blockade of Ukranian ports since its invasion on February 24 has added to volatility in the international financial markets, sending commodity prices higher.
The United Nations Secretary General Antonio Guterres said last week that the problem of global food security cannot be solved without restoring Ukranian agricultural products to the world market.
Ukraine is the world's fourth largest exporter of maize (corn) and the number six wheat exporter according to International Grains Council data.
But now,  about 25 million tonnes of grains are now stuck in Ukraine, according to a U.N. food agency official.
There are reports that Russia is helping herself from the surplus grain in the blocked sea Port by stealing the Ukrainian  grains
In another development, President Vladimir Putin has again blamed NATO and the United States for the war in Ukraine.
Speaking this morning at the red square,  during  the victory day parade and ceremonies marking  the defeat of Nazi-Germany by the red Army in 1945, Putin said that he was left with no option but to undertake special  military operations to protect the Russian state .
The Russian leader who offered few clues on the direction of the conflict said that the United States and Europe ignored Russia's security concerns and continued NATO eastward expansion there by threatening the security of Russia.
In his speech in Kyiv to mark the contributions of Ukraine to the defeat of Nazi-Germany in the world war 11, president Zelensky recalled the gallant efforts of Ukraine in fighting the Nazis who swept across the western Soviet Union, including the present dayUkraine.
He expressed sorrow that today, Putin  is doing exactly what Hitler did 80 years ago  by killing women and children, the elderly as well as the sick.
He assured all Ukrainians that Russia would suffer the same fate  the Nazis  invaders suffered during world war 11.