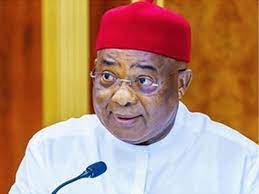 …Says: He has  good plans for state
By Williams Odunze
The support for  second term bid of Governor Hope Uzodinma, has gathered more momentum as a  movement known as Obedient New Imo for Uzodinma,ONIU,has called on Imolites to support the  second coming  agenda of the present administration for the betterment of the state.
The Deputy Co-odinator of the movement, Col. Chinyere Obi (Rtd), made the assertion while speaking with Journalists in Owerri.
Col.Obi informed that the major reason of forming the movement is to give more light on the achievements of the present administration, saying that unlike other  contestants, Uzodinma is the best and a  more reliable canditate who has a clean, clear political history.
She said that the movement has seen the hand writing on the wall and know the direction the governor is going.
This   she said will lift the State from the dungeon of insecurity and infrastructure decay.
Obi, informed that for the few moments she shared with the governor, she discovered that he has good plans for the state mostly the younger generation.
She maintained that the governor has intention of handing over the mantel of leadership to a younger person.
The Deputy co-odinator observed that most of the negative comments about the governor are not true, while regretting that the positive sides of the number one citizen of the state are relegated to the background, mostly the good road networks.
"It was a known fact that condition of roads before this administration came on board was nothing to write home about.Quick to remember is the Ekemele,Onuimo axis down to Okigwe.But Uzodinma on assumption of office tackled the issue of bad roads headlong and the dreaded spots are now passable."
The  retired  Col.  informed that the major reason of forming the movement headed by Dr.Mandela Emeka is to bring to limelight the good works of the present administration and for the people of the State to see reasons why the governor's second term bid is highly needed in the state.
She averred that the killings in the state are not the making of the governor and maintained that the government of the day,to the best of her knowledge is trying its best to curtail the menace.
On the second bid of the governor, the Deputy Co-odinator stated that it was not out of place for the governor to seek for re-election as the Constitution guarantees that and informed that he was not the first person to do that.
NIGERIA NEWSPOINT