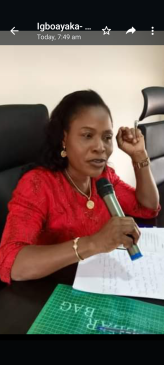 The Labour Party in Imo State, on Thursday, demanded the resignation of the Resident Electoral Commissioner, REC,of the Independent National Electoral Commission, INEC, Sylvia Agu, and called on the electoral body to conduct a free, fair, and credible governorship election in the state.
The Imo guber off-season election holds on November 11, 2023.
Making their demands to the Commission, the State Chairman of the Labour Party, Barr Callistus Ihejiagwa, and Youth Leader, Chris Okorondu, led thousands of Labour Party members to the INEC headquarters, Owerri.
Iheajigwa, appealed to the Commission to ensure that the BVAS to be used for the election function effectively and the results of the polls are uploaded in real time on INEC IREV.
He said INEC should not compromise standards and live up to the expectations of the people of Imo State, who are desirous of having a regime change in the state via the November 11 governorship election.
"We do not want rigged elections; there are so many rumors that INEC has compromised. We appeal to you to please conduct a free and fair election. We do not want a flawed election.," Ihejiagwa stated.
In his remarks, the youth leader of the party, Chris Okorondu, said the people of the state are suffering, stating that there is hardship in the state and that the people intend to use their PVCs to vote for the government they crave for.
"Please, all we need is a free and fair Imo governorship election. There is too much suffering in the land, and the people of the state want a credible election that will reflect the will and wishes of the people of the state
"We do not want rigging or cheating. Our votes must count," he stated on behalf of the protesting LP youths.
In her response, Mrs. Emmanuela Opara, Imo INEC Head of Voter Education and Publicity Department, who represented the REC, commended the labour party members for the peaceful protest.
She assured that there would be a free and fair Imo state governorship election,as INEC will remain an impartial umpire.
"There will be free and fair elections in the state. Other Resident Electoral Commissioners, RECs, will be part of the election because it is an off-cycle election.
"The BVAs will work, and they will work optimally. Our BVAS have never failed, and I can assure you we will have a credible election in the state," she assured.
NIGERIA NEWSPOINT