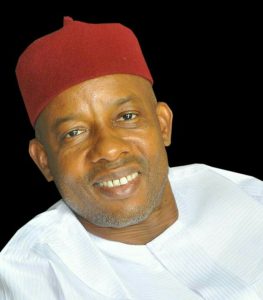 …I'd attracted over 100Jobs
… As Majority Leader, I  Initiated  98 Bills
A former Lawmaker, Hon. Lugard Osuji, who was the  Majority Leader of Imo State House of Assembly, has said that he  desires to return to the State Legislature, to do more of effective representation for the people of Owerri Municipal.
Speaking to newsmen in Owerri, recently Hon.Osuji, who is the candidate of the All Progressives Grand Alliance, APGA, for Owerri Municipal State Assembly seat, said his records as a first time lawmaker  was impressive and outshines those of his predecessors and successors.
"No one can challenge my performance at the State Assembly.
"I initiated a total of 98 bills during my first tenure as member of the House.This is unprecedented", he stated.
The State Assembly hopeful  said he is in the race to win, arguing that Owerri Municipal has never in the history of the State Assembly produced a Speaker or Deputy Speaker.
He insisted , "Owerri Municipal has never produced a Speaker or Deputy Speaker of the Imo State House of Assembly.
"And I stand a chance to change this narrative and achieve this feat, if I return to the State Assembly a second time.
Hon.Osuji   further explained that  he performed creditably during his first tenure in his oversight functions  by facilitating the creation of Autonomous communities, administrative centres, indigenous wards, including facilitating the employment of 150 jobs for graduates of Owerri Municipal.
On his role during the demolition of Eke Ukwu Owerri market, Osuji said it was not in his capacity to stop the then Governor of Imo State, Owelle Rochas Anayo Okorocha to demolish the market.
"I never played any role. Issues concerning markets are not within the purview of the State Assembly. It is with the Local Governments.But, it is important to state that, if Ikedi Ohakim had returned for a second tenure as Governor of Imo State in 2011, he would have as well demolished the market.
"Ohakim had, during his first tenure with the consent of some leaders in Owerri Municipal agreed that the Eke Ukwu market be demolished",he explained.
Gov Ohakim,he revealed  had sent some Owerri leaders to under study how markets in other states were re-modelled. And he would have implemented his plan, if he had won a second term".
Hon. OsuJi asserted that because government is  continum, Gov. Okorocha followed suit.
He said APGA remains the party to beat, because the APC will become un-marketable to the electorate during the 2023 general elections.