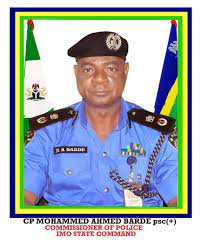 By Ikenna Onuoha
Imo state is indeed known across the world, what is not known is the activities of the "unknown gunmen" ravaging the entire state. The state is bounded by Abia state in the East, Anambra State in the North and Rivers State in the South. Its estimated population as at 2016 census is approximately over 5 million.
The state is one of the nine oil producing states in Nigeria, this means that the state is a benefiary of the 13% oil derivation funds for oil producing states.
Imo state was created in February 3rd, 1976 under the Military junta of Murtala Muhammed. The state has been governed by seven Governors in a democratic setting.
However, upon all the natural resources available for the state, Imo state is still rated as the 6th most indebted state in Nigeria. (See Debt Management Office, DMO) for details.
Some of the fortunes of the state has been lowered to a pitiable level by those suspected to be "unknown gunmen". The confusion today is that since these so called non state actors their operations in the state, their activities have been allowed to thrive without a major hit on them. If such decisive and grace action has been taken against them where they would suffer major loses, I am sure that such evil trade would not be attractive any more by those perpetrating the heneous act.
It should be the fervent prayer of every Imo citizen that the state would be safe again, and the only way Imo would be safe again is for everyone to live with each other in love, greet one another with smiles, play rancour and acrimonious free politics that is targeted at liberating our state and creating better future for the younger ones.
While the menace of the "unknown gunmen" is highly condemnable by any sensible and patriotic Imolite, the question to be answered is what has the government done to flush them out? If government has done anything, how genuine is the government action?
The only way to flush out every form of insecurity or activities of "unknown gunmen" from the state is for everyone irrespective of political affiliations or personal interest to collaborate and proffer a violence free approach that can lead to a genuine thruce. In doing this, government must show that it is indeed ready to tackle the menace of non state actors and inject robust administrative mechanism that will not be targeted at any supposed enemy.
Everyone should genuinely see the state as the only place we have and come to a round table for discussions. Also, government should reduce fear, panic, harassment and intimidation and appear reasonably ready to engender a peaceful society that will be devoid of rancour and acrimony.
It is becoming worrisome and embarrassing that among states in the country, Imo state is known for bad and never for good tidings. Regrettably, the politics played in the state seem to be more dangerous than those played in other states.
Politics of vendetta and revenge should be discouraged. A winner takes it all syndrome should also be discontenanced if the state of Imo would be seen to have increased in security, economy and social welfare programmes.
Chasing political enemies and harassing supporters of other political parties with government machineries should be discourageg despite the vested interest that must be protected. What is important is the protection and preservation of human lives rather than accumulation of wealth and retainship of power at all cost.
Without sounding political, it is regrettable that in the last three years, Imo state has experience cruelty and internal disobedience. This public disobedience has indeed done the state more harm than good and its solution should be a major priority to any genuine Imo son or daughter rather than playing mere politics.
Painfully, in the cause of this menace of civil disobedience, many innocent lives were reportedly lost and buildings worth hundreds of million razed just in a twinkle of an eye. This is not only worrisome and disturbing, but condemnable and regrettable.
If Imo of our dream is utterly destroyed on the altar of greed, selfishness and avarice, what other area shall we call our own to dream of? The only solution for a new Imo is the reduction of desperation to acquire power.
Those, said to have failed in governance should quietly give way for the most preferred persons to assume positions that will guarantee freedom of speech, movement, association, peace, unity, security, economic boom and cooperation amongst the three zones of the state.
The level of panic and fear in the state should be discouraged by everyone. Government itself should allow a level playing field for all where each Imo son or daughter will have the opportunity to showcase his/her talents without any inhibition.
By so doing, we shall be expecting Imo of our collective dreams.
NIGERIA NEWSPOINT