…Plans Medical Mission December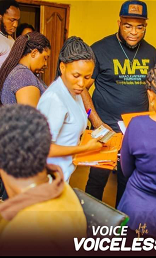 In a bid to put smiles on the faces of the less privileged, a Non Governmental Organization, Miracle Anyanwu Foundation (MAF) recently embarked on a charity outreach at various towns in Imo state, South East Nigeria.
During the life touching charity program, the Foundation,led by its founder/CEO, Dr. Miracle Anyanwu, offered free financial grants to many indigent women at Ubonukam town Ezinihitte Mbaise Local Government Area of Imo state to assist them in their small scale businesses so as to enable them take care of their children.
Also over 50 women who were present at the charity Outreach went home with various food items such as bags of rice, carrots of Indomie noodles, etc courtesy of MAF.
The women,who were visibly excited, could not hide their feelings of joy as they nearly mobbed Dr. Anyanwu while trying to appreciate him for his kind gesture. They prayed God to Continue to bless him.
Dr. Miracle Anyanwu and his team also visited  New Creation Hospital in Imo state, where the Foundation paid the  medical bills of some indigents who have been discharged  since more than two months but could not meet up with their bills.
One of the beneficiaries, who lost her baby during childbirth, thanked Dr. Anyanwu and his Foundation for bailing her from the hospital after her unfortunate ordeal.
In continuation of the outreach, MAF equally gave scholarships and paid school fees for some orphans to enable them continue their education.
The Foundation, which is  currently building a clinic in Dr. Miracle's hometown, for free medical services,  especially for the elderly, also  plans to have a medical mission in December this year.
NIGERIA NEWSPOINT