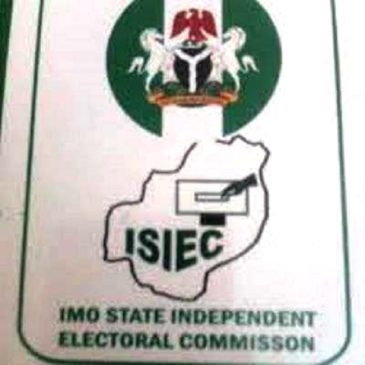 The Chairman of Imo State Independent Electoral Commission, ISIEC, Chief Charles Ejiogu has charged the Management and Staff of the Commission to stand up and be counted in readiness for the next Local Government Council elections in Imo State.
Chief Charles Ejiogu  who  stated this during his maiden interactive session with the HODs, Electoral Officers drawn from the 27 LGAs and other members of staff was accompanied by the Members/ Commissioners, solicited the understanding and cooperation of all so that the Commission will deliver on its mandate and in the most acceptable credible manner.
He admonished the staff to shun absenteeism, lateness to work, truancy during official hours, rumour mongering/   gossips  that are dangerously incongruous and antithetical to ethics of the commission.
"I sincerely thank all of you for honouring our invitation at very short notice. The task ahead is indeed gigantuan but certainly not insurmountable, if all of us rededicate ourselves to duty. Since our constitutional mandate is to deliver to Imolites a peaceful, orderly, free ,fair and credible election, it has become imcumbent on all of us to shun any act of  sabotage either by  error of omission or commission.
Our crop of Commissioners are persons of impeccable character,  proven knowledge, experience  and integrity. Therefore, I hasten to assure all of you that this Commission will provide the right leadership without flinching. What I expect from all of you at this crucial threshold of the imminence of Council elections is an incomparable operational  and  burning enthusiasm to deliver. Furthermore, I assure you that your newly reconstituted Commission will leave no stone unturned in meeting with your operational needs"
The ISIEC Boss, of warned that any act of indiscipline and insubordination will not be condoned and advised that existing channels of communication must be adhered to strictly as there will be no room for the antics of the fifth column in ISIEC.
"Hence, lackadaisical attitude to work or laissez-faire model will be unacceptable in this new dispensation"
He further enthused that the management will wear a human face, even as it expects higher productivity from all members of Staff.
The HODs and other staff expressed their views as  the Commissioner assured a harmonious working relationship with members of staff.
It will be recalled that the Imo State Independent Electoral Commission had earlier scheduled Council polls but had to put the exercise on hold on account of politically orchestrated insecurity as expressed by security agencies. It will also be recalled that on Monday July 24 His Excellency Senator Hope Uzodimma  re-constituted  the Commission in accordance with the provisions of the ISIEC Establishment Law No 14. 2000 as amended.
NIGERIA NEWSPOINT