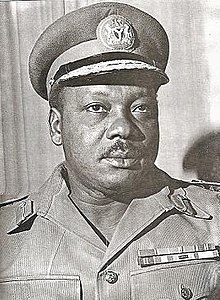 By Ori Martins
Nigeria's first ever indigenous Captain, first Major, first Lt. Col., first Colonel and first Brigadier, Major General Johnson Thomas Aguiyi Ironsi still remains the most patriotic, nationalistic and just head of government the country has ever produced.
Ironsi took over power following the failure of the first military coup that took place on January 15, 1966. That putsch which was well received nationwide as a right action in the right direction was later wrongly tagged "Igbo coup" on the account most of the principal actors were of Igbo extraction.
However, retired Captain Ben Gbulie, in his well researched book, THE NIGERIAN FIVE MAJORS, highlighted graphically the names of those involved in the planning and execution of the January military takeover. It was therefore revealed that out of about 27 participants, Igbo were about 15 while the other ethnic groups had about 17. It had national spread.
It must be pointed out that the so called Igbo coup was also crushed and aborted by Igbo army officers to wit: Ironsi stopped in Lagos. Ojukwu put it off in Kano. Alexander Madiebo quenched it in Kaduna just as other Igbo officers fought against the success of the coup in Ibadan and Abeokuta respectively. Yet, purveyors of wrong information still insist it was Igbo coup.
And, on January 17 when the mutineers were finally crushed, the Senate of the Federal Republic of Nigeria, presided over by Senator (Dr) Abyssinia Akweke Nwafor Orizu, as the President of the Senate & Acting President, on behalf of the parliament, handed over powers to Ironsi as Head of State and Supreme Commander.
"I have tonight have been advised by the Council of Ministers that they had come to the unanimous decision voluntarily to handover the administration of the country to the Armed Forces of the Federal Republic with immediate effect. All ministers are assured of thier personal safety by the new administration. I will now call upon the General Officer Commanding, Major General Aguiyi Ironsi, to make a statement to the nation on the policy of the new administration. It is my fervent hope that the new administration that peace and stability of the Federal Republic of Nigeria and that all citizens will give them their full cooperation", Orizu declared.
The foregoing means that Ironsi was invited to serve as head of state by an act of parliament with full constitutional powers and authorities. He remains the only head of state that had such a mandate. Others after him grabbed powers by force and imposed themselves on Nigeria and Nigerians.
As quickly as he stepped in, Ironsi moved swiftly and carried out policies meant to guarantee unity, peace, order and security. First, he carefully selected his Supreme Military Council (SMC) to give the four regions a sense of belonging to ensure equity, justice and fairness.
Out of the nine member SMC, only Ironsi and the military governor of the East, Lt Col. Chukwuemeka Odumegwu Ojukwu were Igbo. The others were: Chief of Staff, Armed Forces (second in command to Ironsi), Brigadier Babafemi Ogundipe, from West. Chief of Army Staff, Lt. Col. Yakubu Gowon, from North. Head of the Navy, Commodore J.E.A. Wey, from West. Head of the Air Force, Lt Col George Kurubo, East but non Igbo. West Military Governor, Lt Col Francis Adekunke Fajuyi, West. Military Governor, Midwest, Lt Col David Akpode Ejoor, Urhobo and North Military Governor, Lt Col Hassan Usman Katsina, North.
Take a comparative look at the list above and you will behold a high sense of nationalism and patriotism by a patriotic and nationalistic Nigerian head of government whoever lived. There was balance. There was fairness.
To soothe the injuries inflicted on other ethnic nationalities, particularly the North who felt that disgusted following the casualty list or victims of the January 15, 1966 coup, Ironsi embarked on massive promotions in all the federal agencies and parastatals.
To that effect, his Federal Executive Council body had 11 members and only three were Igbo. The third man then was when Gabriel Onyeuke was appointed the Attorney General of the Federation. And to balance it, the Inspector General of Police Kam Salem from Bornu State, North, was brought into the FEC. Yet, Ironsi was ruthlessly assassinated for favouring Ndigbo with  juicy appointments. It is not true because record books never supported such notorious claims.
Rather, Ironsi, the Igbo head of state of Nigeria, worked with clean hands and carried every zone along for peace and stability. That was why, of the 23 permanent secretaries Ironsi appointed or re – appointed, only three were from the East, and of the three,  B. N. Okagbue of the the Federal Ministry of Health and TCM Eneli, his counterpart in the Federal Ministry of Establishment, were of Igbo origin. Eight were from North, seven were from Midwest and five from the West. Cam you see fairness and equity?
In the army, the first officer Ironsi promoted was a Northerner, Major Hassan Usman Katsina who became a substantive Lt. Col on January 19, 1966, just two days after his emergence as head of state. That was what enabled him to the exalted position to being the Military Governor of Northern Region in the Ironsi regime.
Subsequently, in April 1966, Ironsi promoted 60 officers to various ranks and positions, including 20 from North, 12 from East of which Robert Akonobi, Chrise Ugokwe and Andrew Okonkwo wee the only Igbo in the list. 10 from the West and two from Midwest. If you cross check very well, you discover there were equal number of promotions in both north and south, if you include the the two earlier officers from the north who had gained promotions. How else do you expect a leader to be fair and transparent?
It is pertinent to proclaim it to the rooftops that among the Northern officers Ironsi promoted were Shehu Yar'Dua, Muhammadu Buhari, Ibrahim Salihu, Garba Paiko, Abdulahi Shelleng, Ibrahim Bako, Paul Terfa, H.D. Jega, R. O. Obeya, Babangida, and J. I. Onoja, Danjuma and all except Obeya played active roles in Ironsi's mindless assassination.
Ironsi displayed high sense of patriotism, nationalism and statesmanship when, on April 19, 1966, he appointed four more Nigerians into four critical, sensitive and strategic positions and none were Igbo. They were: Alhaji Sule Katugum as the chairman of Public Service Commission of the Federation. Ironsi announced Howson Wright chairman of the Nigerian Railway Corporation.
The Igbo head of state of Nigeria made A.I. Oniyan, chairman of the Nigerian Ports Authority and on the same day, stated through a public announcement that H. O. Omenai was the chairman of the Nigeria Airways.
At the time Ironsi took those historic, symbolic and inspiring decisions, the country was boiling to a melting point. As one who believed in one Nigeria, he moved to rescue it through selfless services as demonstrated in his even distribution of appointments. Remarkably, of his four ADCs, only one, Andrew Okonkwo, was Igbo. The other two were from the North, including the army ADC, Sani Bello just as his private secretary Hamzat Ahmadu, hailed from Sokoto and was closely related to the late Saduana, Alhaji Ahmed Bello.
Till now, as the journalist, historian, author and commentator, Chuks Iloegbunam chronicled it in his evergreen book, IRONSI: The Army, Power and Politics,  no other Nigerian head of government, civilian or military has matched Ironsi's sense equity, justice and fairness.  Regardless of all these fanatical nationalistic accomplishments, he was wickedly killed on July 29, 1966, by army officers he promoted ahead of his Igbo kith and kin. Why?
…To be continued.
NIGERIA NEWSPOINT