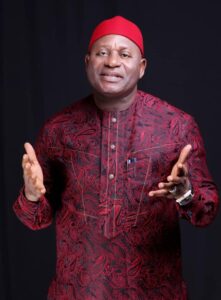 The Director General of Jerry Chukwueke Campaign Organization ,Dr. Iyke Njoku made the call on Tuesday during a campaign rally at Ahiazu Mbaise APC headquarters to introduce, Chief Jerry Chukwueke to the party leadership in the LGA. The Director General , who was a Commissioner for Environment in Imo State told his kith and kin from Mbaise to give Chief Chukwueke a block vote and hold him responsible if promises made to them were not fulfilled.
Dr. Njoku also stated for the records, that he has never lost any election and definitely will not lose this most important Senatorial contest for Owerri Zone. He said he would not go to Abuja with Chief Chukwueke if he wins as a Senator, but will work at the party office to ensure that all the promises made by his principal are fully implemented.
Addressing the mammoth crowd of Ahiazu Mbaise APC members, Chief Chukwueke told the Mbaise nation to continue to support Senator Hope Uzodinma's administration to deliver the much needed dividends of democracy. According to him;"let no one be in doubt; Uzodinma will be Governor for 8 years because he has been an outstanding Governor with manifest developmental projects all over Imo state.
Chief Chukwueke further reminded his audience that no one anticipated that Uzodinma will be Governor, but that God alone sees the beginning and end of a process even before it began. He likened Uzodinma's date with destiny to his quest for the post of Senator representing Imo East.
Speaking as the great mobilizer that he is, Chief Chukwueke also reaffirmed that he will be handy to mobilize for Governor Uzodinma's second term in office – an election he termed, a 'stand alone' election.
Chief Jerry Chukwueke told Ahiazu Mbaise APC members that it is in his DNA to be humble and people-friendly. He further said his career path has prepared him for this position in which he seeks to serve his dear people of Owerri zone. He reminded them that as a professional goalkeeper, he is the last line of defence for people of Owerri zone; and as a watchman, it is his sacred duty to keep watch over his dear people of Owerri zone who pays his salary.
He further said that as a man moulded in Christian virtues by his disciplinarian father, he will never allow his people to beg him to honour his "social contract" with them.
The campaign rally recorded an impressive turnout in excess of 2500 persons.