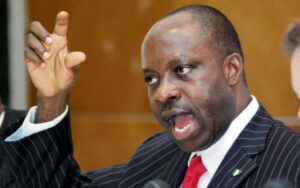 His Excellency Prof. Charles Soludo: Governor Anambra State
By Prosper Ezeji
The growing level of insecurity in the South-East region has become a thing of worry to the new Governor of Anambra state.
The Governor of Anambra state, Peof. Chukwuma Charles Soludo, has expressed worry over the spate of violence and killing in the South-East.
During his recent inaugural ceremony,the Governor said the level of insecurity created by hoodlums is one thing that must be tackled for the state to develop as it should.
The Governor warned that the current trajectory in the region is a road to desolation and that the politicians fueling insecurity in the South-East should know that they are"riding a tiger"
Declaring his readiness to join in the task to end insecurity in the region, Soludo said securing the Igbo land is a collective responsibility and he would be working with other Governor's in the South-East to do so.
He called on those who have been perpetuating one form of violence,crime or the other and those who are hiding in the forest to surrender their arms and work together with his government for rehabilitation and empowerment.
According to the Governor, those steps would enable these groups of people to contribute positively to the peace and prosperity of Igbo land.