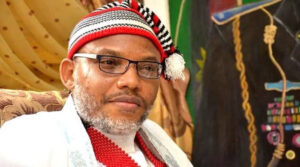 The Supreme Court, on Thursday, slated December 15 to deliver its judgment on the appeal that is seeking to compel the Federal Government to release the embattled leader of the Indigenous People of Biafra, IPOB, Nnamdi Kanu, from detention.
A five-member panel of the apex court headed by Justice Kudirat Kekere-Ekun, okayed the matter for judgment, after counsel for both FG and the detained IPOB leader, adopted their final briefs of argument.
While FG was represented by a team of lawyers that were led by an Acting Director of civil Appeals at the Federal Ministry of Justice, Mr. T. A. Gazzali, SAN, Kanu's legal team was led by a former Attorney-General of the Federation and Minister of Justice, Mr. Kanu Agabi, SAN.
Even though Agabi, SAN, led Kanu's team of lawyers, however, it was Prof. Mike Ozehkome, SAN, who presented his appeal to the apex court panel.
Ozehkome, SAN, prayed the court to not only order the immediate release of his client from detention but to equally award a "very heavy and punitive cost" against FG.
"We urge my lords to uphold our Cross-Appeal to do substantial justice to this matter and to the Respondent who has been in detention since June 29, 2021, even after the lower court ordered his release and that he should never be prosecuted again on the same counts.
"They are still holding him unconstitutionally. We pray my lords to deliver justice and use this case, just like in Ojukwu vs. State, to demonstrate that no man or government should be above the law," Ozehkome, SAN, pleaded.
However, in his submission, FG's lawyer, Gazzali, SAN, urged the apex court to uphold the amended brief of argument he filed on May 3, 2023.
He prayed the court to allow FG's appeal, set aside the judgment of the Court of Appeal which ordered Kanu's release, and order the resumption of his trial before the Federal High Court in Abuja on terrorism-related charges.
NIGERIA NEWSPOINT