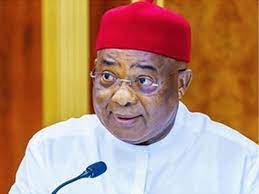 …As Accord Candidate,  Esinkonye, Structure Joins APC
The re-election victory of Gov Hope Odidika Uzodinma in the forthcoming 11th November 2023 election is becoming clearer, as the overwhelming support from Imo electorates swells by the day; Following the continuous collapse of opposition structures into the re-election structure/support campaign groups for Uzodinma's victory.
While other governorship candidates are busy with campaign of calumny and flaunting hired/paid supporters to deceive the general public; the Imo APC Organizing Secretary, Hon Ikechukwu Umeh has been busy receiving decampees from other political parties and structures.
Recently, the Accord party candidate for Ohaji/Egbema state constituency in the last general elections, Hon Ejike Esinkonye collapsed his political family/structure of over four thousand (4,000) electorates into the APC for the primary target of delivering Ohaji/Egbema local government hundred percent (100%) for Sen Uzodinma come 11th November 2023.
In his remarks, Hon Esinkonye averred that he decided to join APC in order to contribute in delivering the incumbent governor, Uzodinma for second term because he has practically delivered the dividend of democracy to the entire people of Imo without discrimination or nepotism; both in infrastructural and human development respectively.
Esinkonye also cited the understanding and commitment that exist in Ohaji/Egbema APC as one of the reasons that catapulted his decision to join hands with the party to work for the re-election of the governor.
Some of the party leaders from Ohaji/Egbema that include the member representing Ohaji/Egbema state constituency, Hon Uzoma Obiyo, SA to the governor, Hon Ken Ekwueme, Hon Goddy Esom Obodo, leader; in their different submissions attested that the inclusion of Hon Esinkonye and his "Ego eruola" political structure is a good omen and a way forward for the success of the APC in the forthcoming Imo guber election.
In his response, the Organizing Secretary on behalf of the state party leadership and the state governor welcomed the new entrants and promised that they will not be sidelined but fully integrated into the party's scheme of things. As he enjoined those leaders from the LG to make sure that the leadership and members of Oge eruola political family is not sidelined at all.
In a similar development, a prominent support group under, Imo Youth Got Hope (IYG-H) under the leadership of Comrade Chimaraoke Ndukwe, DG, and Hon Acho Ejizu, leader, paid solidarity visit to the party leadership via the Organizing Secretary at the party headquarters to register their support and endorsement of Gov Hope Uzodinma's second term bid and their readiness mobilize more than three hundred thousand (300,000) voters across the state come 11th November 2023.
NIGERIA NEWSPOINT