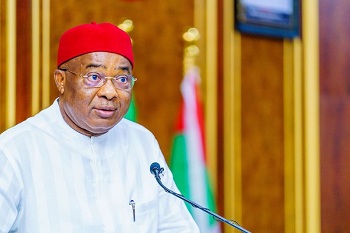 …It's reason for his re-election
As the gubernatorial election comes up in November 11,2023 for Imo State and two other states, it's predicted that Gov. Uzodinma will be re-elected. The Governor has done adequately well with development of the youths in areas of need currently especially in the information technology services.
The ministry of Digital Economy and E-commerce of Imo State just graduated their second batch of participants last week Tuesday September 26,2023 with emphasis on growing the economy of the state both from within and outside. That's a big plus for a governor who has fought and kept fighting gallantly to withstand bandits from taken over the state and at same time funded adequately the training and impactfully skilling of the youths.
Dr. Nath C Uba, one imolite that has stood solidly behind this government, is ready to engage some of the trained youths in his foundation, The Nath Uba Foundation. Dr. Uba a US-based banker, financial expert and health care provider have reiterated his unalloyed support for continuity. In his word, "continuity is the key to getting it right in a troubled economy like ours " He is a politician, community leader, Philanthropist, and health care provider. A native of Ehime Mbano, of Okigwe zone who lives in the USA but frequents Nigeria because of his numerous business engagements.
The skillup programme will engage our youths adequately. Governor Uzodinma is expected to be rewarded with a second tenure so that he can finish the good job. In the last graduation ceremony, the governor made mention of sending some youths abroad. That's awesome. In our economy, Diaspora remittances have become a critical part of us. Many families today survive with it and the Governor is ready to make most of our youths and their families smile.
Dr. Uba, and his support groups are totally working assiduously to making sure Gov. Uzodinma is re-elected.
NIGERIA NEWSPOINT