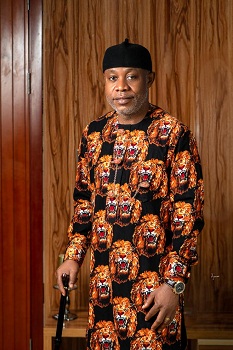 …Create Job,boost Agriculture
…Flags off campaign
By Williams Odunze
As the November 11 Gubernatorial election in Imo state is fast approaching, the governorship candidate of the Action Alliance ,AA, Maj.General Lincoln Jack Ogunewe(Rtd) , has reassured Imo citizens of his readiness to put paid to the festering   insecurity in the state.
The AA Guber candidate  gave the promise at the Kanu Nwankwo Sports Centre in Owerri while addressing party faithful and Imo citizens who came to grace the  flag off of his Campaign.
The retired military General avered that security is the cardinal point of any government and that any government that failed to  safeguard lives and property of its citizens has failed in all.
He promised to make security his priority for  development to strive, maintaining that it will be difficult for industrialization to take place in a hostile environment.
The ex-military General further assured that with his military background and experience he'll restore the needed peace in  the state.
 He  explained that he will  use his past experience with which he had   restored  peace in many parts of the world during his time in service and   adopted same  to ensure  peace without  undue waste of  human blood.
Ogunewe also observed that Imo people  is  known as lovers of culture and tradition, where sanctity of life is maintained but regretted that such is no longer the same as lives of Imolites are being wasted on daily basis.
"I'm highly trained in safeguarding lives and property and  I'm the most qualified person to rescue the state, mostly,now that insecurity has taken over the place.Enough is enough, and this is the time to take lmo back to its former glory"
He further reassured the gathering that his government would  create employment by initiating industrial policies that will boost the economy of the State.
"Mine would  be an administration of creating prosperity not shared prosperity.Go to your various wards and LGAs and tell them to come out to vote for A A; your votes will be protected",he assured.
Speaking,the state Chairman of the party,Dr. Ifeanyi Agomuo said that the time to let the masses live has come through the person of General Ogunewe, who he said God has destined to save the state.
The highlight of the event was the receiving of some persons who  defected from APC
They were led by the Director of  special duties,Tinubu/Shettima campaign organization,Chief Benneth Ikpeama  who stated that the reason for their defection was because of the inability of the present administration of Governor Hope Uzodinma to end insecurity.
He further informed that their defection  has nothing  to do with the party at the national level, maintaining that y they are in support of Tinubu/Shettima Government.
  Another group that graced the event was the Hausa Community in the State led by its chairman,Umar Habibu.
NIGERIA NEWSPOINT