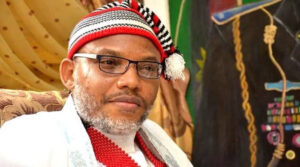 The Supreme Court of Nigeria has fixed October 5, for hearing of appeals on the leader of the Indigenous People of Biafra (IPOB) Mazi Nnamdi Kanu's case.
Recall that Justice Binta Nyako of the Federal High Court sitting in Abuja, had on April 8, 2022 struck out eight out of the 15-count treasonable felony charge levelled against Kanu, by the Federal Government.
Justice Nyako's ruling was on an application by Chief Mike Ozekhome SAN on behalf of Kanu, which had sought an order quashing the entire charge against the IPOB leader.
Ozekhome had maintained that the charge against Kanu was legally defective, insisting that the court lacked the jurisdiction to prosecute him over an incompetent charge.
Ozekhome told the Federal High Court that Kanu was "unlawfully, brutally and extraordinarily renditioned from Kenya without his consent".
He contended that since some of the charges against Kanu, were purportedly committed outside Nigeria, the trial court lacked the territorial jurisdiction to hear the matter.
But not satisfied partly with the ruling of Justice Nyako, the IPOB leader through his counsel, Ozekhome, headed to the appellate court to seek the quashing of the remaining 7 counts.
On October 13, 2022, the Court of Appeal, Abuja Division, in a landmark judgment, quashed, acquitted and absolved Kanu of any wrongdoing.
Consequently, the Justices of the Court of Appeal, in allowing the appeal, directed the Federal Government of Nigeria to immediately release Nnamdi Kanu unconditionally.
More so, the appellate court proceeded in the aforesaid judgement to prohibit the Federal Government from further detaining Nnamdi Kanu, or prosecuting him on any indictment or charge before any court in Nigeria.
A statement by Sir Ifeanyi Ejiofor, Esq., IPOB'S lead counsel, Saturday, hinted that the apex court will on October 5, hear a "frivolous appeal" filed by the Federal Government of Nigeria against the judgement of the Court of Appeal; and to further set aside the ruling of the Court of Appeal staying the execution of its earlier judgment.
NIGERIA NEWSPOINT