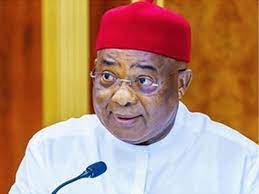 …Says, Move Aimed at Rigging November Poll
The Peoples Democratic Party Governorship Campaign Council in Imo State wish to alert the good people of Imo state of a clandestine plot by Hope Uzodinma and leaders of APC to forcefully hijack their Permanent Voters Cards (PVC) before they can receive the Federal Government palliatives.
So far, Uzodinma is said to have released the remaining palliatives to Sole Administrators, Commissioners, Special Advisers, and other appointees of his government with stern directive to distribute same to only those with Permanent Voters Cards (PVC) who should be APC members. What this means is that, Imo citizens who are members of other political parties like Labour Party, APGA, SDP, NNPP, PDP and others cannot partake.
This development is not only worrisome, criminal and wicked which is at variance with the Federal Government's sharing template, but an indication that Uzodinma's administration is too petty and vindictive to have leveraged on the free-will gift to frustrate Imo people.
It is no longer in doubt that the actions of Uzodinma and his party leaders justify previous reports on the media that the APC government in the state diverted over N2 billion from the intervention funds, and allocated over 50 thousand bags of the contingent to relatives, friends and well-wishers at the detriment of Imo citizens.
Currently, the image of Imo state government is at stake and badly mutilated in the eyes of the world that while other states in the country are freely and genuinely distributing the palliatives to indigenes of their states irrespective of party affiliations or PVCs, Uzodinma and his directionless administration are using the gift as a weapon to continue to impoverish Imo people.
As an entity that believes in the rule of law, what Uzodinma and APC are presently doing in the state has confirmed the insinuation that the prevalent hunger, starvation and anguish experienced by Imo people now and in the past are deliberately orchestrated by APC government in the state.
While we advise Imo people to reject this Greek gift aimed at exposing their private identification Numbers to scavengers or to exchange their Permanent Voters Cards (PVC) with two and half cup of rice from Uzodinma, Imo people are to remain alert that why Uzodinma is struggling to have access to their PVCs is to enable his government rig the November 11 Governorship election, after it appears to him that the people have abandoned him.
Signed
Ikenna ONUOHA
Director, Media and Publicity
Imo PDP (Sam-Jones) Governorship Campaign Council