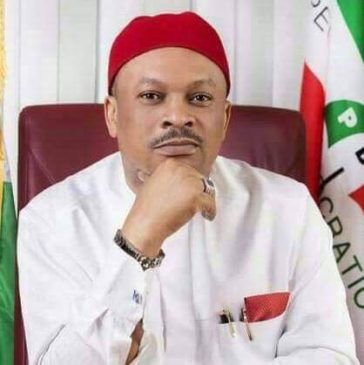 …Sends SOS to IGP over Chisom's release
…Says: Party media officers face arrest threats
The Peoples Democratic Party, PDP, Imo State Chapter, has raised alarm over what it described as the alleged continued  intimidation and harassment of journalists and media aides attached to the party and its candidate for the scheduled for November 11 gubernatorial election in the state.
This is even as the party rejected the judgements of the elections tribunal sitting in Nassarawa State, which recently sacked two of its House of Representatives members- Hon Ikenga Imo Ugochinyere Ikeagwuonu who represents Ideato Federal Constituency, and Hon Jonas Okeke  representing Okigwe South Federal Constituency in the Green Chamber of the National Assembly in Abuja.
At a World Press Conference held at its Okigwe Road state office in Owerri on Wednesday, Imo PDP through its State Legal Adviser, Barr Kissinger Ikokwu, hinted that the two judgements delivered against its House of Representatives members were alleged "miscarriage of justice" as according to it, the Supreme Court had since settled the issue of nomination of party candidates as purely internal affair of political parties."
The  party further hinted that if such a judgement could apply to the case of candidate of the All Progressives Congress, APC, it therefore, remained a surprise why it should not also apply to the cases of Hon Ikenga Ugochinyere and Hon Okeke.
The legal practitioner noted that once a candidate nominated by his political party had contested and won an election, any issue of nomination or primary election remained a pre-election matter.
Imo PDP which urged its members not to lose sleep over the two judgements, declared that both Ikenga Ugochinyere for Ideato Federal Constituency and Hon Okeke for Okigwe South Federal Constituency still remained members of the House of Representatives Abuja, pending the final determination of appeals against the two judgements.
Meanwhile the party has allegedly accused the present APC administration in the state of instigating the alleged "clampdown" on its members by security agencies, regretting that one of its members, one Chisom Mark was allegedly arrested penultimate week by the police and was as at the time of the press conference, yet to be released.
The party through its State Publicity Secretary, Emenike Nmeregini, recalled that "a couple of months back, some state officers were invited to the state police command for interrogations over alleged libellous statements by the party."
The party disclosed that the matter has been allegedly "protracted without end…"
The party called for the "unconditional release" of the said member, Mark,  from detention.
"Our party vehemently condemns this resort to the use of state apparatuses of power for harassment, intimidation, illegal detention of innocent citizens, in direct violation of their constitutionally guaranteed rights to personal liberty and freedom of speech.
"This clampdown… we perceive as reaction to derail our Governorship Campaigns of "Making Imo Safe Again…
"…Such action on… Imolites is totally a direct assault on our democratic order…
"We hereby appeal to the Inspector General of Police and other service chiefs not to keep deaf ears to the precarious situation in Imo State, particularly at this period of governorship election…:
"…The press and citizens of the state deserve adequate protection as they exercise their legitimate rights of expression and association within the ambit of the law. "
NIGERIA NEWSPOINT