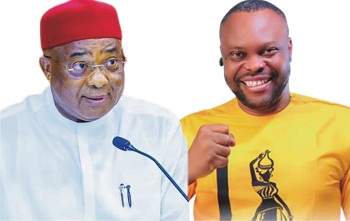 Appreciation: I am a covenant child whose destiny is tied with the people. Intimidation, arrest, detention, won't stop me from saying the truth. 
Next Plan; Kidnapping/ Assassination. The world is aware.
Mazi Chinonso Uba (aka Nonsonkwa) is my name; Radio Broadcaster, Human Rights Activist & Publisher. 
On Thursday July 27th 2023 between the hours of 9:30 am & 10:15am when I was leaving my place of work, Ozisa 96.1FM Owerri located inside Assumpta Cathedral Owerri, I was with three people whom I wanted to drop off around Ware-House junction and continue my journey home. Few seconds after driving out of the gate of the cathedral, directly opposite Holy Ghost College Owerri, I was double crossed by a white unmarked Hilux, I stopped to see what was actually happening when four armed men opened doors of my car and ordered the occupants to come down from the vehicle. I asked them who they were, they said nothing but rather entered my car and ordered me to drive to the state police command. I asked him for what, he said the Commissioner of Police wants to see me. I told him that if the CP wants to see me, he would call.
At that point another Hilux had blocked free flow of vehicular movement along Assumpta avenue, causing sudden traffic jam along control post. I took out my phone dialed the number of the PPRO of Imo State Police Command  ASP Henry Okoye, he picked but told me he was in a conference, but I passed the message to him that his men are harassing me, he bounced the call; I called the O.C Anti-kidnapping because I knew the guy who arrested me were his boys; O.C Anti-kidnapping didn't pick. I turned off the engine of my vehicle asked the police officers still sitting tight in my vehicle to show me their warrant of arrest; he kept mute.
At this point, I knew its no longer funny. I told him they want to abduct me without trace, he looked at me, I came down from my car and told them I am not going anywhere without a warrant of arrest. I told them they cannot take me alive except my dead body. At this juncture, passersby were already gathering at the scene,  people were already running to the scene, I could hear one of the armed police officers answering a call from a senior officer I guess, telling him " oga he said he wont follow us, unless we kill him". Few seconds, a tall man wearing black suite approached me, flashed an ID card and introduced himself as ASP Dan Musa from IGP Monitoring Unit Abuja, that I was under arrest.
He grabbed my trouser, I resisted him. He grabbed my phone, I resisted him too. Threw the phone inside my car. At this point the crowd was becoming aggressive and I know they can shoot someone and blame it on me; I quietly entered their white Hilux vehicle and they drove off to State Police Command.
AT THE STATE POLICE COMMAND OWERRI:
I was taken to an office or something where a petition  written by Declan Emelumba, the Imo State Commissioner for Information was given to me to respond to.
In that petition, Emelumba accused me of inciting violence and hatred through a facebook broadcast  I made on June 24th, 2023 where I questioned the use of Asari Dokubo boys "aka Ebubeagu" as security vigilantes in Imo when Asari Dokubo in a  viral video he made in June 2023 said that Igbos are slaves to his forefathers if not for civilization, Igbos would have remained slaves to his people. But funny enough, Emelumba twisted the story, accusing me of saying it was Uzodimma and Asari Dokubo that I said were killing Imo Youths, that I should provide evidence. Anyways, any evidence to show the atrocities of Ebubeagu in Imo states shall be tendered before a Court of Competent Jurisdiction not to Emelumba or the Police.
TAKEN TO ABUJA:
After making my statement, the IPO, CSP Usman Garba told me that my bail would be in Abuja, I should get ready. I already know how this will play out, so I demanded to know where my car was, he told me, it has been brought back to Tiger Base. I demanded to call my family, he said no, that I will call them when I get to Abuja. I demanded to call my driver to pick up the car, he gave me my second phone they took from my pocket. I called my driver but it wasn't going through, the IPO said we should start going to the airport, that the flight is leaving by 2pm, we stepped out; that was when I saw my Campaign DG, Ossy, I told him to go get the car, take it to my house, inform my wife and tell her I will call her immediately I get to Force Headquarters Abuja.
MOVEMENT TO ABUJA:
We arrived Sam Mbakwe Airport Owerri, around 1:30pm checked in with the ID already in my phone. At 2pm, the flight was shifted to 4pm, by 4pm it was shifted again to 6pm by the time we got to Abuja, it was almost 7;30pm. There was a vehicle already waiting for us at the Airport. They took me to the CP, IGP Monitoring Unit at about 8:30pm, I met the CP and he assured me that the petitioner will come the next day being Friday, he instructed the second IPO, ASP Dan Musa to take me to Maitama Police  Station by 9:15pm and I was detained there.
The next day came for the interview, I saw neither the Imo state Government officials or my two IPOs. The interview later held 6days after my arrest. On Wednesday August 2nd, I was brought to the IGP Monitoring Unit, accompanied by my lawyers,Barr Charles Mgbenkeonye,we met Declan Emelumba and one Ethelbert Okere Director, Imo Orientation Agency sitting. The contents of that interview are now before the Federal High Court Abuja, so I can not deeply go into details here, but its not different from what I was confronted with in the petition I responded to in Owerri about Ebubeagu, Hope Uzodimma and Asari Dokubo.
The funny part was when the 2nd IPO tried to link me with the unknown gunmen, IPOB and ESN.
THE ILLEGAL AND UNLAWFUL DETENTION BEGINS
My lawyer demanded that I be taken on bail after the interview since I have overstayed the limit of the law in detention by the Police but the CP Monitoring Unit told my lawyer  that the IGP gave an order to keep me in detention for another one week even when there was no court order to detain me.
I instructed my lawyer to file charges against the IGP immediately for unlawful detention; which he did with the assistance of other lawyers who volunteered to fight for my freedom; These lawyers included Barr. Maxwell Okpala, Barr.Walter Odoh (my classmate in the seminary) Barr. Nnaemeka Ejiofor and Barr. Chinenye Okafor.
THE LEGAL BATTLE BEGINS
My legal team filed a suit against the IGP over my continued detention on the 8th of August 2023 before an FCT, Abuja High Court (vacation court) and the hearing was fixed for 18th of August  2023. The IGP was duly served.
On the 18th however the court granted me bail and ordered the IGP to release me, he refused. What the police did was to hurriedly file a two count charge of cyber crime against me and refused to get a date for my arraignment. I know that game plan; they wanted to use it as a bait to continue detaining me.
I instructed my legal team to file a contempt of court charge against the IGP immediately and get the date for my arraignment as well.
They set to work.
THE APOLOGY GAME PLAN
At this juncture, the apology game plan erupted. I was approached even by the police to apologize and be free. I laughed. I wasn't shocked too that certain persons close to me where USED by the Imo state government to persuade me to apologize to Gov. Uzodimma and I made it clear to them that I will only apologize to God if I fail to say and defend the truth.
Meanwhile, the IGP sensing he would be in trouble if the contempt charges were followed up judiciously, gave me an administrative bail in the sum of 22million naira, with a Permanent Secretary who must be resident in Abuja and who would be willing to drop his or her international passport with the police till I am arraigned at a date yet unfixed. I knew this was just a cosmetic approach and a game plan to delay my freedom. I further instructed my legal team to write to the police that I cannot meet the condition and seek a review. It was immediately carried out and the review approved by the CP IGP Monitoring Unit.
As expected, they came up with another funny plan,that the IGP would have to minute on the approved bail application but don't know when he would do that.
My release came as a shock to Imo State Government whose plan was to detain me till November, 2023.
But their plan failed woefully
RESOLUTIONS
Most people believe that I might no longer be as vocal as I am because of the incaceration. Some believe I might be bought over and side the government. I wish to make the following remarks:
I will NEVER forsake the people no matter the persecution
No one has the capacity to break me except God.
No one has the capacity to stop me from saying the truth and standing by and for the masses.
I am a covenant child whose destiny is tied with the people.
No amount of intimidation, arrest, detention will stop me from saying the truth.
It is important to make it public that the next plan from a liable source is to kidnap and assassinate me since they failed to keep me in detention till November 2023.
I call upon the Amnesty international, National Human Rights Organizations, United Nations, Intersociety to take note.
Imo state government should be held responsible if any harm comes to me, my family or any of my relatives!!!!
In conclusion, the date for my arraignment on the two count charge leveled against me by the IGP comes up on 11th of September 2023 at the Federal High Court Abuja.
Once again, I appreciate those who sincerely prayed for me and those who offered me moral and financial support throughout my unlawful detention in Abuja.
May God come to your rescue in your time of trial. Amen.
Mazi Chinonso Uba (Nonsonkwa)
President, Protect The Weak Int'l Foundation (PROWIF)