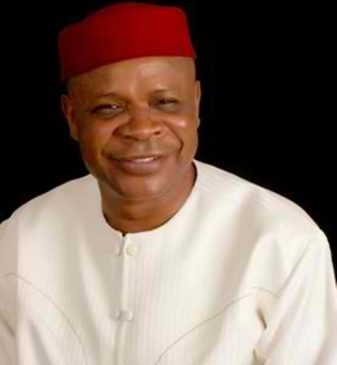 …Assures govt will look into EZESHIP SELECTION TUSSLE
The Secretary to the Government of Imo State Chief Cosmas Iwu has admonished the people of Okwudor Autonomous Community to continue to maintain peace and orderliness in the community and assured them that government will look into their Ezeship selection matter.
Chief Iwu gave the admonition when he received in audience the Okwudor Traditional Council of Chiefs and Kingmakers in his office at the Cabinet office.
The SGI, who sympathized with the community on the death of their traditional ruler Eze Barr. Anayochukwu Ernest Anyanaele Duru Eburuo, Obi 11, of Okwudor Ancient kingdom, who was slained on October 19th, 2021, at Njaba Council Headquarters, further assured them that the Shared Prosperity Government led by Governor Hope Uzodimma, believes in justice, fairness and laid down rules, noting that the state government will look into the Ezeship selection process in the community based on  the gazetted Constitution of the Community.
Chief Iwu, who made it categorically clear that government only wants to replace the dead traditional rulers of already existing recognized Autonomous communities, stressed that the essence of the replacement of the dead traditional rulers was to enable such communities know what the government programs are , through the state Council of Traditional Rulers.
He extolled the leadership qualities of Governor Uzodimma, whom he described as a courageous leader of our time, and pointed out that despite the huge sum of money the administration has spent to fight and reduce insecurity to its minimal level in the state, yet it did not deter the shared prosperity administration from delivering the dividends of democracy to lmo citizens and called for support for Governor Uzodimma's second term re- election come November 11th, 2023.
Earlier in his speech, the leader of the delegation, Ichie Martins Madu,said that they were on the visit to interact with the SGI, in order to notify him that the Community has buried and mourned their late traditional ruler according to the provisions of their custom and tradition.
He  further said, that according to their custom and constitution, that their traditional stool is hereditary since 1978, when Okwudor Ancient kingdom was created and in line with the provisions of the constitution, that the Royal lineage in conjunction with the kingmakers has chosen Ichie Prince Chijioke Duru Eburuo as the new Eze elect, whom he said has been presented to the Solad at Njaba Council Headquarters.
He however, regretted that some group of persons in the community has refused to adhere to the laid down rules of Ezeship selection in the community, thereby threatening the peace in the community and he therefore appealed to the  state government to intervene for peace to reign.
In his vote of thanks, the Eze elect, Ichie Prince Chijioke  Duru Eburuo, on behalf of the delegation, thanked the SGI for the warm reception accorded them and he prayed for the Governor, Chief Iwu and those in his cabinet and the state at large.
NIGERIA NEWSPOINT