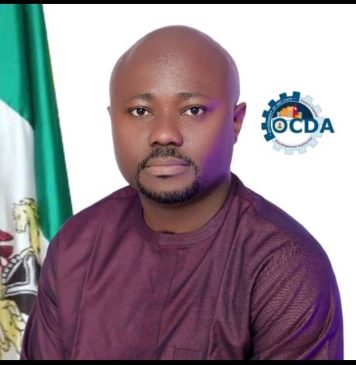 By Unegbu Victor-Wallace
It was Winston Churchill who said, "You have enemies? Good.That means you've stood up for something, sometime in your life"
The recent attempt by a nameless and faceless group parading as concerned imolites to smear the towering image of the General Manager of OCDA, Hon Frank Nzewodo  is nothing but baseless, and an fruitless attempt to use falsehood to soil the enviable image of Hon. Frank Nzewodo.
The baseless and unfounded allegation from these nameless group published in the front page of a local tabloid alluding that Hon. Frank Nzewodo is involved in the sales of government properties reveals that Hon Nzewodo is standing up to something of great value, hence the criticism.
It is worthy to note that Hon Frank Nkem  Nzewodo since assumption of office as the General Manager of Owerri Capital Development Authority OCDA, has within few months revived the OCDA through strict financial discipline thus growing the revenue  generation of the agency by over 200%.
Frank Nwodor upon assumption of duty, discovered that the revenue of the OCDA has dropped drastically compared to the times when innocent Ikpamezie was GM. He therefore conducted a thorough investigation to find out the reason for the decline, it was discovered that the inability of the agency to implement 100% TSA compliance was behind the decline as less than 70% of the fees and levies accruing to the State Government is been remitted into the TSA account.
Hence, Hon Frank Nkem Nzewodo embarked on a rigorous 100% TSA compliance for all fees and levies accruing to the state government. This drive means all conduit of financial corruption associated with revenue collection in the agency which saw the proliferation of all kinds of receipts and vouchers of payments that ends up in the pockets of individuals parading themselves as consultants of the agency.
This strict compliance to the 100% TSA compliance has recorded huge results, reviving the entire operational base of the agency and increasing the revenue generated to by over 200%.
This revival is a confirmation of His Excellency Governor Hope Uzodimma's confidence in the ability of Hon Frank Nzewodo to provide the needed leadership that is now reviving and transforming OCDA.
With what seems to let loose these demons and enemies of the Imo State is the recent demolition of criminal hideouts in owerri metropolis in Onitsha road, Nekede old road, and  Avu junction by the GM's taskforce. This demolitions included some illegal hausa shanties settlement that not only defaced the beauty of the capital city but have over the years become a hideout for criminals who  vandalize  government's infrastructures,  committing all sorts of crimes and criminalities and illicit drug sales.
As such it becomes laughable for anyone to resort to cheap blackmail and falsehood just to smear the image of Hon Frank Nzewodo.
#OCDAGMMEDIA
NIGERIA NEWSPOINT