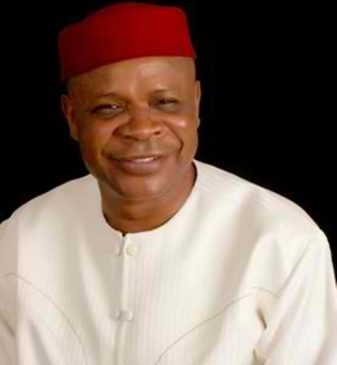 The Secretary to the Government of Imo State, Chief Cosmos Iwu, has been honoured with an award of Erudite and Pragmatic Secretary to the Government of Imo State by Kegites Club of Senator Benjamin Uwajimogu College of Education, Ihitte Uboma, Imo State.
Receiving the award in his office, the Secretary to the Government of Imo State, on behalf of himself , His Excellency, Dist. Senator Hope Uzodimma, the Executive Governor and the people of the state thanked the Organization for the honour done him.
Chief lwu who described Kegites Club as a socio – cultural group that promotes socio cultural interaction amongst the youths, instead of embarking on sinister and criminal activities , further assured them of government support in training the youths.
He highlighted the unprecedented achievements of Governor Hope Uzodimma in the 27 Local Government Areas in the state, not minding the security challenges, which he said that the state government in collaboration with the security agencies in the state has reduced  to a minimal level.
Chief Iwu therefore called on the group to continue to support the government of the shared prosperity administration of Governor Uzodimma for the good of all Imolites.
Earlier in his speech, the Chairman of Kegite Club , Imo state Dr Chioma Orjiako, said that they were on the visit to interface with the dynamic Governor of lmo state and to partner with the state government in the areas of youth mobilization.
They also used the visit to present an award of erudite and pragmatic Secretary to the Government of Imo state to Chief Cosmas Iwu.
Present at the visit were the SA to the Governor on Senator Ben Uwajimogu College of Education Dr. Mrs. Rose Opara, the Public Relations Officer of the Institution Chief Kingsley Anyiam, who is also the Patron of the Kegite Club, Chief Nnabuife Collins – a Netherland based businessman and SA to the Secretary to the government of Imo state Mr Ezeji Samuel.
Highlight of the visit was the presentation of the award.
NIGERIA NEWSPOINT