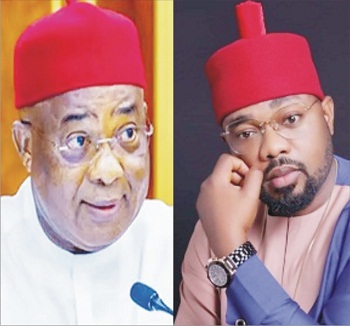 …Cautions: Leave Ikenga alone
Ideato people under the aegis of Ideato League of Patriots have replied Governor Hope Uzodinma in strong terms over his recent media attack and his concerted and seeming paranoid plot to undermine the member representing Ideato Federal Constituency at the House of Representatives, Hon. Ikenga Imo Ugochinyere.
The group maintained that the level of insecurity in Imo state is alarming while their governor is junketing in far away Abuja, only to wake up from slumber to make uninformed references to Ikenga Ugochinyere instead of addressing the nagging challenges that have besieged the state in the last four years.
This is also as the group stated that Uzodinma has effectively abdicated his duties to Imo people and particularly the people of Ideato nation who he has abandoned to erosion, in his blind fixation on Ikenga Ugochinyere and apparent bid to undo the legislator.
The group which described Hon. Ikenga Ugochinyere as the pride of Ideato nation, whose competence is unassailable, also called on Uzodinma to leave their representative alone and face his 'questionable mandate' as the governor of Imo state.
This was contained in a statement signed by the Chairman and Secretary of the group, Engr. Eleazer Izukanne and Abel Onyejela respectively.
The group said: "Hiring a new spokesperson every week, cannot change the facts about the deplorable state of affairs in Imo. Nobody can run a government by intimidation and harassment and expect all stakeholders to cower away in fear because he thinks he has the power of life and death. True enough, Uzodinma has succeeded in silencing most of the leaders in the state while forcing others to flee the state for fear of their lives, but thinking he can sustain the state-contrived anarchy and impunity in the state forever, is playing god, which is why his handlers are rankled  that our son, Ikenga Imo Ugochinyere called him out for fuelling the problem of insecurity in Imo state."
The text continued: "From the message Hope Uzodinma delivered through Collins Opurozor yesterday, it is obvious that Uzodinma is clearly peeved by the fact that Ikenga Imo Ugochinyere has been relentless in speaking truth to power and has sustained a soaring political profile. It is common knowledge that Hon. Ikenga Imo Ugochinyere turned out a roaring success from his first day of assuming legislative duty at the Green Chambers and so, Uzodinma's allusion to his brand of representation, laughs the Governor to scorn.
"As a matter of fact, every Nigerian is aware that since Ikenga Imo Ugochinyere blew the whistle on Uzodinma's plot to compromise the voters' register, a scandal that is now known as Omuma Magic, Uzodinma has been fixated on Ikenga Imo Ugochinyere alone while abandoning his duties and obligations as a governor to the people of Imo state and Ideato in particular."
The press release stressed that while chasing Ikenga around, Uzodinma has abandoned Ideato to erosion with the implications that villages in Ideato under Governor Uzodinma's Imo are gradually being buried in gully erosion while Uzodinma is busy pursuing Ikenga from pillar to post and scheming to undo the People's Messenger for calling out ineptitude and impunity in the Uzodinma administration, which has snowballed to the present horrifying devaluation of human life in Imo state under Uzodinma.
The group added that: "Our non-resident Governor Uzodinma who had absconded from his duty post for nearly two months now, had the arrogant temerity of suggesting that Ideato people should consider recalling Ikenga Imo Ugochinyere who has been pulling his weight at his duty post in Abuja, for speaking up against Uzodinma's atrocities and wanton despotism in Imo state, which is why Uzodinma's new songbird, Collins Opurozor called it 'combative representation'.
"In any case, our dear Governor Uzodinma, the good people of Ideato nation will have you know that Ikenga Imo Ugochinyere is the best lawmaker we have had in a long time. Ikenga Imo Ugochinyere is sure-footed and by far a better lawmaker than you ever was, in spite of the years you spent at the Senate. Ikenga is humane and if his commitment to democracy, the course of justice and his avowed defense for his people, are what you misconstrue as combative representation, then know that he has all our blessings. Leave Ikenga alone and face governance!"