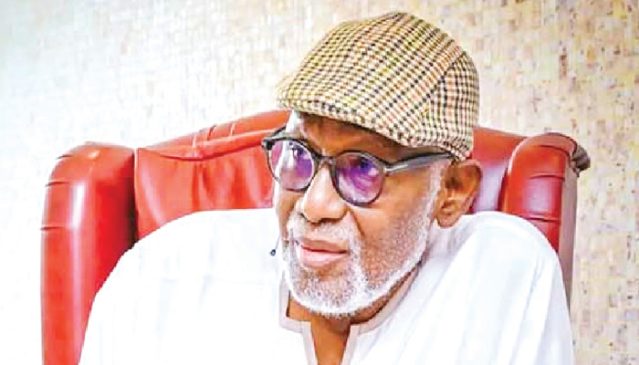 The orchestrated rumour of the death of the governor of Ondo State, Arakunrin Oluwarotimi Akeredolu, SAN, CON, by some political profiteers have become a grave concern to me and men and women of good conscience in Ondo state. In the past, I have ignored the tune as a mere political adventure but the latest version of the woven wicked rumours from their mill is satanic and totally inhuman.
As mortals; we can fall ill. The governor, like any human being can fall ill. When illness comes, we seek medical treatment and take deserving rest. This the governor has done and is rapidly responding to treatment.
Spreading serial orchestrated rumour through cloned media platforms to harass his family, admirers and the good people of Ondo state of his death is not only ungodly, it reveals the toxic of wickedness and inhumanity in the minds and hearts of those behind the rumour mill.
It is now realised that these deliberate cartels of rumour peddlers have made it a habitual trade to raise false alarm about the death of the governor to cause panic, apprehension and tension in the state and beyond.
Thank God, instead of morbid panic the people of the state have responded with prayers and empathy. Daily, they pray for the Governor and God, the giver of life, has indeed stood by him, his family and his well-wishers.
The holy book has admonished us all to pray for those in position of authourity. The book probably saw in leadership position salient burdens of leadership and the effects on their personal life.
For those who took pleasure in the pains of others by deliberately manufacturing rumours of the death of others, let me remind them that God has recompense for those who assume His position. Life belongs to Him and Him only.
NIGERIA NEWSPOINT